Kyoto Aquarium

Show map

Show gallery
Please activate Javascript.

Domo arigato.
Kyoto Aquarium

Kyoto Aquarium

Kyoto Aquarium
Facts & Figures
The modern Kyoto Aquarium is located within the Umekoji Park. You will find there 15000 marine animals of appr. 250 different species. The facility with an total floor area of 10974 square meters includes different themes like the Kyoto River Zone, Furseal, Seal, Penguin, Sea of Kyoto, Fish of Coral Reef, Jellyfish, Crustacean and Dolphin Stadium.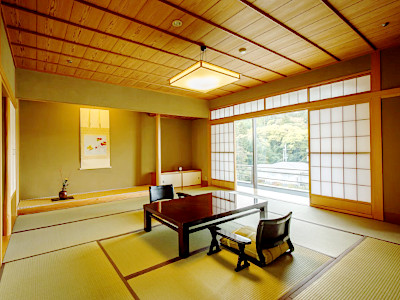 Explore Ryokans in Kyoto
Ryokans are the perfect way to discover old Japanese culture and traditions. Do not miss the exhibitions with great information about Beauty of Nature and the Countryside of Kyoto. The highlight of the Kyoto Aquarium is the big tank. The tank contains water with an weight of 500 tons and recreates the coastal waters of Japan.
Kyoto Aquarium:

Opening Hours

- 10:00 am to 6:00 pm (last entry 5:00 pm)

Closed

- never, open the whole year

Admission Fee

- 2050 yen (Adults), 1550 yen (High School Students), 1000 yen (Junior High), 600 yen (Child over 3)
History
The first aquarium in Kyoto opened to the public in 2012. Responsible for the project was the company TOYO Architects and Engineers office.
Location
Show map
Kyoto Aquarium is located within the Umekoji Park near Kyoto Station.
Address: 35-1 Kankijicho Kyoto Shimogyo-ku, 600-8835 Kyoto
How to get to Kyoto Aquarium?
 15min walk from Kyoto Station or
 8min from Kyoto Station to Nanajo Omiya Station by Kyoto City bus
Sightseeing spots
Top:
Big Tank - It is great the have the opportunity to observe marine animals like the green sea turtle, longtooth grouper, pitted stingray, spotted eagle ray from seven different viewing places.
Dolphin Stadium - Many performances can be watched during the day.
Festival & Events in Kyoto
(dates can change without notice)
April
Miyako Odori (1st - 31th)
The traditional annual spring dance of the Kyoto district Gion Kobu performed by Geiko and Maiko is a must-see on your Kyoto visit. Don't miss the most popular dances the Miyako Odori "Cherry Blossom Dances" or "Dances of the Old Capital" at the Gion Kobu Kaburenjo Theater (located close to Gion Corner).
May
Aoi Matsuri (15th)
The highlight of this festival is a large parade from Imperial Palace through Shimogamo Shrine to the Kamo Shrines. More than 500 people wearing aristocratic costumes from the Heian Period (794 - 1185). The Aoi Matsuri belongs with the Gion Matsuri and Jidai Matsuri to the three most famous festivals in Kyoto.
July
Gion Matsuri (whole month)
The month July is full of different events like the Yoiyama - Kyoto's Magical Night (locals in kimonos look at the giant Gion floats the day before the parade) or the famous Yamaboko Junko (float procession on the 17th of July).
October
Jidai Matsuri ("Festival of Ages") (22nd)
People celebrate with a large parade between Imperial Palace to Heian Shrine the anniversary of the foundation of Kyoto. App. 2000 participants wearing historical costumes from different time periods. Enjoy this great festival which last around 2 hours.
Search Hotels in Kyoto