Fushimi Castle (Kyoto)

Show map

Show gallery
Please activate Javascript.

Domo arigato.
Fushimi Momoyama Castle In Kyoto
Facts & Figures
Fushimi Momoyama Castle is located in the Fushimi district within the city Kyoto near the Fushimi Inari-Taisha Shrine. The word Momoyama stands for Peach Mountain. It originated from the peach trees planted around the castle. It was originally planned as a luxurious retirement home for the great warlord Toyotomi Hideyoshi (1536-1598). The reconstructed castle is made out of concrete. Unfortunately it is closed for the public since 2003.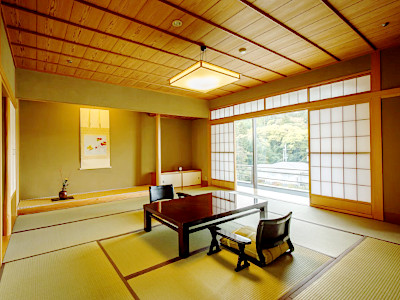 Explore Ryokans in Kyoto
Ryokans are the perfect way to discover old Japanese culture and traditions.
History
Fushimi Momoyama Castle had a very interesting and moving history. Construction started in 1592 by Toyotomi Hideyoshi and was completed in 1594. 20000 to 30000 workers were needed for this effort. A great earthquake in 1596 destroyed the castle for the first time, but was shortly after rebuild. Later it came under the control of Torii Mototada, who served Tokugawa Ieyasu. The army of Ishida Mitsunari destroyed the castle in 1600, after a 11 day long siege. The remains of the castle were in the year 1623 dismanteled. In 1912 when the Meiji Emperor died, he was buried at the original site of the castle. The Fushimi Castle you see today is a concrete replica built in 1964. It was part of an amusement park for close to 40 years.
Location
Show map
Fushimi Castle is located in the southeastern part of Kyoto.
Address: 45 Momoyamacho-Okura, Fushimi-ku, Kyoto 612-0853
How to get to Fushimi Castle?
 14min from Kyoto Station to Momoyama Station by JR Nara Line
Sightseeing spots
Top:
Castle grounds - the castle is surrounded by a beautiful little park (open 24hrs)
Festival & Events
(dates can change without notice)
April
Miyako Odori (1st - 31th)
The traditional annual spring dance of the Kyoto district Gion Kobu performed by Geiko and Maiko is a must-see on your Kyoto visit. Don't miss the most popular dances the Miyako Odori "Cherry Blossom Dances" or "Dances of the Old Capital" at the Gion Kobu Kaburenjo Theater (located close to Gion Corner).
May
Aoi Matsuri (15th)
The highlight of this festival is a large parade from Imperial Palace through Shimogamo Shrine to the Kamo Shrines. More than 500 people wearing aristocratic costumes from the Heian Period (794 - 1185). The Aoi Matsuri belongs with the Gion Matsuri and Jidai Matsuri to the three most famous festivals in Kyoto.
July
Gion Matsuri (whole month)
The month July is full of different events like the Yoiyama - Kyoto's Magical Night (locals in kimonos look at the giant Gion floats the day before the parade) or the famous Yamaboko Junko (float procession on the 17th of July).
October
Jidai Matsuri ("Festival of Ages") (22nd)
People celebrate with a large parade between Imperial Palace to Heian Shrine the anniversary of the foundation of Kyoto. App. 2000 participants wearing historical costumes from different time periods. Enjoy this great festival which last around 2 hours.
Travelers who viewed Fushima Castle in Kyoto viewed also:
Search Hotels in Kyoto