Yoyogi Park in Tokyo
Please activate Javascript.

Domo arigato.
Yoyogi Park in Tokyo

Map of Yoyogi Park in Tokyo

Entrance of Yoyogi Park in Tokyo

Yoyogi Park in Tokyo

Pond within Yoyogi Park in Tokyo

Pond within Yoyogi Park in Tokyo

Flower Field Yoyogi Park in Tokyo

Flower Field Yoyogi Park in Tokyo

Relaxing Moment within Yoyogi Park in Tokyo

Night Walk through Yoyogi Park in Tokyo

Yoyogi National Stadium in Tokyo

Yoyogi National Stadium in Tokyo 2019
This post can contain affiliate links, which means that we may receive a small commission if you make a purchase using these links.
Facts & Figures
Yoyogi Park (Yoyogi Koen) is with 54.1 hectares the 4th largest public park within the 23 wards of Tokyo. The park is located near Harajuku and next to the famous Meiji Jingu Shrine.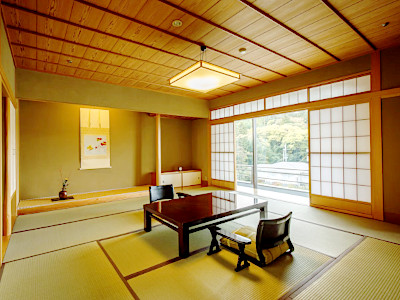  Explore Ryokans in Tokyo >
Ryokans are the perfect way to discover old Japanese culture and traditions. The mixture of ponds, wide lawns, bike paths, picnic areas, bird sanctuary, cycle rentals, many sports facilities and a huge number of trees (more than 15000) makes it a very popular spot for locals and tourists. The central plaza is called Chuo Hiroba. In the end of March and beginning of April the park is full with thousands of people during the cherry blossom season (Hanami) to enjoy the scenery. My tip: Plan a visit on a Sunday at the park's east side entrance. You will be surprised of the mixture of people on that day. Cosplayers, Japanese rock music fans, dance groups and artists will show you a different wilder side of Japan. And last but not least enjoy a walk there during autumn when the ginko tree forest turns into an ocean of golden leafs.
Yoyogi Park

Open

- always, no closing day

Admission Fee

- free
My tips for local activities
How about exploring the fascinating city Tokyo with a local guide. Check out this page > for more details about this tour.
History
Yoyogi Park was in the beginning of 20th century a parade ground for the Japanese army. In 1910 the first successful flight of on airplane in Japan happened here. To honor the pilots you can find two bronze statues of them and a monument in the south-west corner of the park. After World War 2 the park became the residential area for US officers also known as the - Washington Heights - during the occupation of Japan. During the Olympic Games In Tokyo (1964) the Yoyogi area was used for the main athletes village and the Yoyogi National Gymnasium. The Yoyogi area was transformed into an city park in 1967. The park fully opened to the public in 1971. It is forming together with the Meiji Jingu Shrine one of the largest park areas in Tokyo.
Location
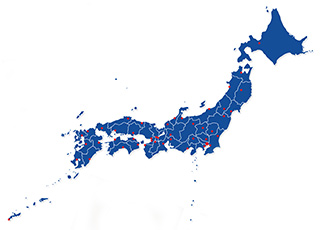 Yoyogi Park is located in the Harajuku district within Shibuya-ku (ward) in Tokyo.
Address: 2-1 Yoyogikamizonocho, Shibuya City, Tokyo 151-0052, Japan
How to get to Yoyogi Park?
 Harajuku Station is served by JR Yamanote Line
 5min from Harajuku Station to Yoyogi Park
 Meijijingu-mae Subway Station is connected by Fukutoshin Subway Line and
 Chiyoda Subway Line
 5min from Meijijingu-mae Subway Station to Yoyogi Park
Sightseeing spots
within the park and nearby:
Yoyogi Park Cycling Center - Rent a bicycle there and follow the concrete cycling track. The center is open from 9am to 4pm.
Olympic Village - You can find in the south-east corner of the Yoyogi Park a remnant of accommodation from the Olympic Village in 1964.
Yoyogi National Stadium (Kokuritsu Yoyogi Kyogi-jo) - It was built for the Tokyo Summer Olympic Games in 1964 within the Yoyogi Park in Shibuya. The famous Japanese architect Kenzo Tange (1913 - 2005) was responsible for the outstanding design. The construction phase took from 1961 to 1964. The stadium goes now through a renovation phase in preparation for the Tokyo Olympic Games in 2020. The arena has enough space for 13291 people. The venue is used for sports events and concerts. The much smaller Yoyogi Futsal Stadium is part of the Yoyogi National Stadium.
Treasure Museum (Homotsuden Honkan) - artifacts from Emperor Meiji (1852 - 1912) and Empress Shoken (1849 - 1914) are on display
Harajuku Bridge - on Sunday's Harajuku girls wear crazy customs (cosplay) there
Nezu Museum - personal collection of Nezu Kaichiro (1860 - 1940), more than 7400 objects (paintings, sculptures etc..) are on display
Omotesando - Omotesando is one of Tokyo's most famous shopping districts
Omotesando Hills - shopping paradise combined with great architecture from Tadao Ando
Takeshita Street / Dori - hotspot for trendy teenager fashion
Togo Shrine (Togo-jinja) - dedicated to Togo Heihachiro (Fleet Admiral, 1848 - 1934), constructed in 1940
Kiddy Land - one of the best toy stores in Tokyo with a great selection of products
Oriental Bazaar - biggest art and antiques store in Tokyo
MoMA Design Store - Museum of Modern Art's first retail store located outside of the US
Festival & Events
(dates can change without notice)
March
Saint Patrick's Day Festival (17th)
The largest Saint Patrick's Day parade in Asia is held in Omotesando. Enjoy a Guinness beer and watch Irish bands, cheerleaders and great historical costumes.
August
Harajuku Omotesando Genki Matsuri Super Yosakoi (end of August)
This is the largest yosakoi dance festival in Tokyo. Enjoy 2 days of music and watch the performances of 99 teams and 6000 dancers.
My 100 Best Moments in Japan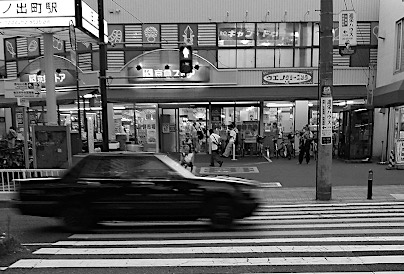 I have visited Japan nearly every year since 2004. This is my collection of the 100 best moments in my favourite country. Enjoy the pictures and I hope you will start your own journey soon.
Find out more >
Books about Japan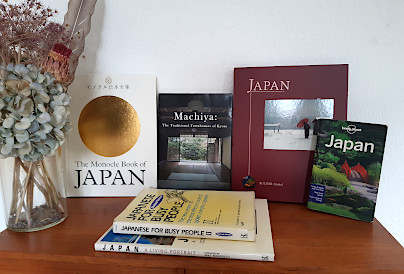 Reading books is a great source of inspiration for me. Check out my recommended list of books about the fascinating country Japan.
My Book recommendations >
Travelers who viewed Yoyogi Park viewed also: