Shibuya Crossing in Tokyo
Please activate Javascript.

Domo arigato.
Shibuya Crossing in Tokyo

Shibuya Crossing in Tokyo

Shibuya Crossing in Tokyo

Shibuya Crossing in Tokyo

Shibuya Crossing in Tokyo

Shibuya Crossing in Tokyo

Shibuya Crossing in Tokyo

Shibuya Crossing in Tokyo at Night
Facts & Figures
The famous Shibuya Crossing or Shibuya Scramble (Shibuya sukuranburu kosaten) is located right in-front of the Shibuya Station near the Hachiko exit. This landmark is a photographer hotspot and a must-see for every visitor of Tokyo. It is the busiest pedestrian intersection in the world. With every green phase on average 3000 people crossing this intersection of 7 roads and in rush hours up to 15000. This is adding up to a total of 260 000 people per working day. These are really impressive numbers. The length of the crosswalk is 36m. Shibuya Crossing is featured in movies like Fast & Furious, Lost in Translation with Bill Murray and Scarlett Johansson or in mangas, games, animes, tv commercials, news and this is adding to its iconic status for Tokyo.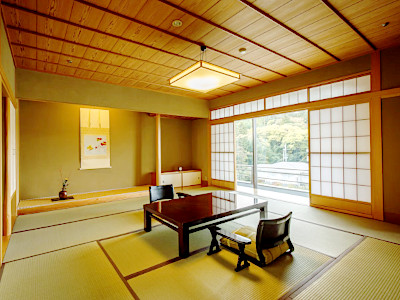  Explore Ryokans in Tokyo >
Ryokans are the perfect way to discover old Japanese culture and traditions. The best place to watch this scramble is from the nearby Starbucks shop in Tsutaya or at the L'Occitane cafe. It is amazing and mesmerising to see how people can walk so smoothly through the crowd. It is worth to come here by day and night or on a rainy day you will see thousands of colourful umbrellas magically moving around. The crossing is a popular place for advertising companies and you are surrounded by three huge television screens mounted on high-rise buildings bringing their useful and not so useful messages to the people. The scenery is similar to the Times Square in New York. The most popular meeting point near the Shibuya Crossing is the famous Hachiko dog statue. He waited for his master every day at Shibuya Station. He did so even nearly 10 years after the death of his master. This loyalty was honored with a statue. Last but not least this crossroad is a very popular gathering place during Halloween and the New Years midnight celebrations.
My tips for local activities
How about exploring the fascinating city Tokyo with a local guide. Check out this page > for more details about this tour.
History
Shibuya Crossing in Tokyo belongs to a list of over 300 other scramble crossings in Japan. It is the most famous one and was developed in 1973.
Location
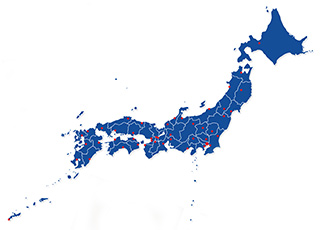 Shibuya Crossing can be found right outside of Shibuya Station in Tokyo.
Address: 2 Dogenzaka, Shibuya-ku, Tokyo, 150-0043
How to get to Shibuya Crossing?
 Shibuya Station is served by JR Shonan Shinjuku Line, JR Yamanote Line and
 JR Saikyo Line, Fukutoshin Subway Line, Hanzomon Subway Line, Ginza Subway Line and
 Tokyu Den-Entoshi Line, Tokyu Toyoko Line, Keio Inokashira Line or
 90min from Narita Airport to Shibuya Station by Narita Express
Sightseeing spots
nearby Shibuya Crossing:
Shibuya Station - The station is the 4th busiest commuter rail station in Japan. Nearly 2.4 million passengers come here on a normal weekday.
Hachiko Statue - This statue honors a dog with the name Hachiko (1923 - 1935). He waited for his master every day at Shibuya Station. He did so even after the death of his master.
Observation deck - On top of the department store - Magnet by Shibuya 109 - is a great observation deck located. You have to pay a 600 yen entrance fee, but the amazing view over the Shibuya Crossing is worth it. For 1000 yen you can use a camera installed above the platform to get a picture of you and the crossroad. Trust me no selfie stick can reach this height and angle :)
Shibuya Scramble Square - The high-rise building opened for the public in 2019. It has a height of 230m with 47 floors above ground. The highlight is the SHIBUYA SKY observation deck on top of the building with the best 360-degree view over the Shibuya district and Tokyo. The entrance fee for this spectacle is 200 yen.
Bunkamura building - Enjoy this amazing multi-purpose arts and culture center in Shibuya. The word Bunkamura means btw culture village. You will find there cinemas, a theater, museum, galleries and much more.
Love Hotel Hill - Many love hotels can be found in this area. It is a very popular spot for young people;)
Department stores - Enjoy a huge variety of stores like Seibu, Tokyu, Parco, Marui, Tokyu Hands, Shibuya Mark City, Shibuya 109, Loft etc…
Center Gai - This area is one of the fashion hotspots in Japan and the latest trends can be found here.
Koen Street / Koen Dori - A nice shopping street is connecting Shibuya Station with Yoyogi Park.
Festival & Events
(dates can change without notice)
May
Shibuya Kagoshima Ohara Matsuri (19th)
Minami-Kyushu's biggest festival with 2000 dancers comes to Shibuya. Location is the Dogenzaka and Bunkamura street.
September
Shibuya Nebuta Matsuri (14th)
Colorful float procession joined by Nebuta flutes and drums held in Center-gai.
My 100 Best Moments in Japan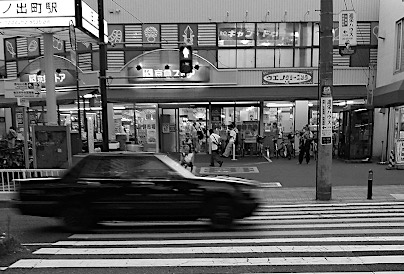 I have visited Japan nearly every year since 2004. This is my collection of the 100 best moments in my favourite country. Enjoy the pictures and I hope you will start your own journey soon.
Find out more >
Books about Japan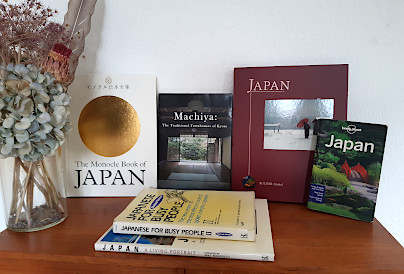 Reading books is a great source of inspiration for me. Check out my recommended list of books about the fascinating country Japan.
My Book recommendations >
Travelers who viewed Shibuya Crossing viewed also: