Nikko

Show map

Show gallery
Please activate Javascript.

Domo arigato.
Nikko Line

Nikko National Park Shinkyo Bridge

Nikko UNESCO World Heritage Site

Nikkozan Rinnoji Temple UNESCO World Heritage Site

Gojunoto Five-Story Pagoda At Toshogu Shrine

Nikko Toshogu Shrine Kamijinko Shoro

Nikko National Park Toshogu Shrine

Nikko National Park Yomeimon Gate

Nikko National Park Yomeimon Gate

Nikko National Park Yomeimon Gate

Nikko National Park Yomeimon Gate

Nikko National Park Three Monkeys

Nikko National Park Niomon Gate, Taiyuin-byo Temple

Deva King Nio-mon gate, Taiyuin-byo Temple

Chozuya Toshogu Shrine Nikko

Nikko National Park Nitenmon Gate

Nikko National Park Nitenmon Gate

Nikko Kokamon Gate, Taiyuin-byo Shrine

Nikko National Park Iemitsu Mausoleum

Nikko National Park Iemitsu Mausoleum

Nikko Yashamon Gate Taiyuin Mausoleum

Shinyosha (Shed of Portable Shrine) Toshogu Shrine

Honden Karamon Gate

Futarasan Shrine Romon Gate Nikko
Facts & Figures
Nikko is one of the most popular tourist attractions in Japan. The Temples and Shrines of Nikko are a registered UNESCO World Heritage Site since December 1999. That includes 103 buildings with unique beauty and importance for the Japanese culture like the Futarasan Shrine, Toshogu Shrine and Rinnoji Temple.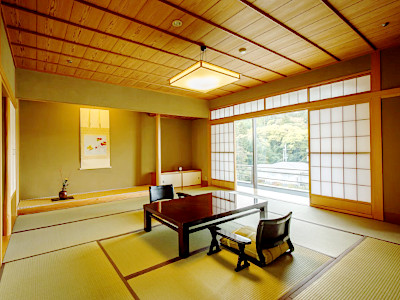 Explore Ryokans in Nikko
Ryokans are the perfect way to discover old Japanese culture and traditions.
History
Nikko's religious history can be dated back till the middle of the 8th century. At that time the Buddhist priest Shodo Shonin established in 766 the temple of Rinnoji there. He introduced Buddhism to Nikko. One of the major attractions the Toshogu Shrine was completed in 1617 as the mausoleum of the warlord Tokugawa Ieyasu. He established the shogunate which ruled Japan for more than 250 years.
Location
Show map
Nikko is located just 140 km north of Tokyo and appr. 35 km west of Utsunomiya, the capital of the Tochigi Prefecture.
How to get to Nikko?
 2hrs from Tokyo Asakusa Station to Nikko Station by Tobu Railways
 2hrs from Tokyo Shinjuku Station to Nikko Station by limited express trains
 100min from Tokyo or Ueno Station by JR Tohoku Shinkansen to Utsunomiya and transfer to the Nikko Line
Sightseeing spots
Nikko UNESCO World Heritage Sites:
Futarasan-jinja - one of Nikko's oldest Shinto shrines
Toshogu Shrine - a Shinto Shrine dedicated to Tokugawa Ieyasu
Rinnoji Temple - the most important temple in Nikko
Shinkyo Hashi (Bridge) - at the entrance to Nikko's shrines you will find this sacred bridge
Festival & Events
(dates can change without notice)
April
Yayoi Matsuri (16th - 17th)
Mikoshi (portable Shinto shrine) procession will be held at the Futarasan Shrine
May
Toshogu Shrine Grand Festival (17th - 18th)
The most important annual festival in Nikko includes a horesback archery and a procession of 1000 warriors. The festival is a re-enactment of the funeral procession of Tokugawa Ieyasu (1542-1616) who founded the Tokugawa Shogunate in Edo (Tokyo).
October
Toshogu Shrine Autumn Festival (16th - 17th)
Is an repetition of the festival in May.