Rinnoji Temple (Nikko)

Show map

Show gallery
Please activate Javascript.

Domo arigato.
Sanbutsudo (Main Hall), Rinno-ji Temple, Nikko

Autumn Leafs, Rinnoji Temple, Nikko

Dai Goma-do Temple (Holy Fire Temple), Rinnoji, Nikko

Sorinto (bronze pillar), Rinnoji Temple, Nikko
Facts & Figures
Rinnoji Temple is located in the Nikko National park and is part of Nikko's UNESCO World Heritage Sites. The temple complex consists of 15 Buddhist temple buildings all of which play an instrumental role in the history of the local area and Japan in general.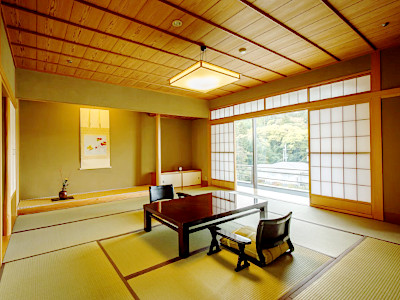 Explore Ryokans in Nikko
Ryokans are the perfect way to discover old Japanese culture and traditions. Rinnoji Temple is best known for the three Budhha Hall or the Sanbutsudo, which features three humongous gold-leafed Buddha statues and the impressive Japanese meditation garden or the Shoyo-en Garden which covers the entirety of the park. The garden is popular with visitors especially during fall owing to its many maple trees that are arranged in an almost picture-perfect manner. Autumn colors are particularly beautiful during the first half of the month of November. Outside the Sanbutsudo, the Sorinto pillar stands tall with a height of 13.2 m. The pillar was made in 1643 at Shogun Tokugawa Iyemitsu's request. The pillar was constructed to imitate the treasure tower that is situated on Mt. Hiei (near Kyoto) and is made completely out of bronze.
Rinnoji Temple:

Opening Hours

- 08:00 am to 5:00 pm (from April till October, last entry 4:30 pm)

Opening Hours

- 08:00 am to 4:00 pm (from November till March, last entry 3:30 pm)

Closed

- never

Admission Fee for Sanbutsudo

- 400 yen (Adults)

Admission Fee for Shoyo-en Garden and Treasure House

- 300 yen (Adults)
History
In 766 Rinnoji Temple was erected by a Buddhist monk known as Shodo Shonin (735 - 817). Shodo Shonin explored various parts of Nikko during that time and founded also the nearby Futarasan Shrine. He is credited with introducing Buddhism to the Nikko area. During the Kamakura era (1185–1333), the Rinnoji Temple in Nikko was a place where the ruling class such as the Minamoto shoguns could gather to worship.
Location
Show map
Rinno-ji is located just next to the famous Toshogu Shrine in Nikko within the Tochigi Prefecture.
Address: 2300 Sannai, Nikko-shi, Tochigi
How to get to Rinno-ji?
 10min from JR Nikko Station by bus or
 45min from JR Nikko Station
Sightseeing spots at Rinno-ji
Top:
Sanbutsudo - The main building is housing lacquered statues of Amida, Senju- Kannon or Kannon with a thousand arms, as well as Bato-Kannon, or Kannon with a horse head. These three statues represent the three divine manifestations of Nikko.
Sorinto pillar - The bronze pillar is especially important to monks as it contains 1000 volumes of holy Buddhist sutras. The pillar is also a symbol of world peace as it is believed to purify the demon gate at the Nikko Toshogu shrine.
Statue of Shodo Shonin - This statue honors the huge influence he had during his lifetime in the Nikko region.
Dai-Goma-do (Great Hall of Homa) - Homa means a holy fire for invocation and it describes the Buddhist rite of burning cedar sticks on the altar.
Festival & Events in Nikko
(dates can change without notice)
April
Yayoi Matsuri (16th - 17th)
The Mikoshi (portable Shinto shrine) procession will be held at the Futarasan Shrine.
May
Toshogu Shrine Grand Festival (17th - 18th)
The most important annual festival in Nikko includes a horesback archery and a procession of 1000 warriors. The festival is a re-enactment of the funeral procession of Tokugawa Ieyasu (1542-1616) who founded the Tokugawa Shogunate in Edo (Tokyo).
October
Toshogu Shrine Autumn Festival (16th - 17th)
Is an repetition of the festival in May.