Mount Takao (Takaosan)
Please activate Javascript.

Domo arigato.
Drummers at Takao Momiji Matsuri (Maple Leaf Festival)

Mount Takao Cable Car

Mount Takao Cable Car Sign

Mount Takao Cable Car Tunnel

Mount Takao Yakuoin Temple Gate

Mount Takao Panorama View

Mount Takao Hiking Tour

Mount Takao Hiking

Mount Takao Yakuoin Temple

Mount Takao Shrine

Mount Takao on the Evening

Mount Takao Donation Wall for a nearby Temple
Facts & Figures
Mount Takao is one of the most popular day trip destinations from Tokyo. From the top of the sacred mountain at 599m you can see Mt. Fuji, Tokyo and Yokohama. This hiking paradise has 2.6 million visitors a year and you can choose between 6 hiking courses to get to the top. Along the way you will see the Yakuoin Temple, a monkey park, Tama Forest Science Garden and two observation decks. You can also use a scenic cable car or chair lift to avoid the exhausting hiking tour.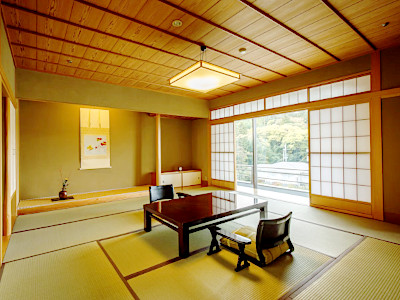 Explore Ryokans in Tokyo
Ryokans are the perfect way to discover old Japanese culture and traditions.
Cable car - from Kiyotaki Station to Takaosan Station:

Operating Hour

- 8:00 am to 5:15 pm/6:30 pm (dependig on the season), running every 15min
Chair lift:

Operating Hour

- 9:00 am to 4:30 pm (May to November)

Operating Hour

- 9:00 am to 4:00 pm (December to April)
History
One of the major attractions of Mt. Takao (Takaosan) is the Yakuo-in Temple (also known as Takaosan Yakuoin Yukiji Temple). The temple dates back to 744 and was founded by Japanese Buddhist priest Gyoki Bosatsu (668 – 749) on the orders of Emperor Shomu (701 - 756). Initially the temple was dedicated to the Medicine Bhudda with the name Yakushi Nyorai, but now it is one of the three head temples of the Shingon-shu Chisan sect of Buddhism.
Location
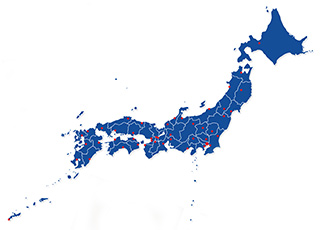 Mount Takao is located within the Tama region on the West border of Tokyo.
How to get to Mount Takao?
 50min from Shinjuku Station by Keio Railways to Takaosanguchi Station - 370 Yen
 50min from Shinjuku Station by Chuo Line to Takaosanguchi Station - 660 Yen
Sightseeing spots within the Mount Takao area
Top:
Takao 599 Museum - The main focus of this modern museum is a exhibition about the ecosystem of Mount Takao. It is a great place for families.
Address: 2435-3 Takao, Hachioji, Tokyo 193-0844
Takao Monkey Park - Approx. 40 Japanese macaques living in the park.
Tama Forest Science Garden - It is a Botanical Park at the foot of Mount Takao. The garden with its natural forest covers an area of 130000 square meters.
Yakuoin Temple - You will see at the entrance of the beautiful red coloured temple of the Shingon sect a huge statue of Tengu (mountain goblin). The nice carvings of the Yakuoin Temple were my personal highlight. The Buddhist practice of mountain asceticism (shugendo) can be studied here.
Address: 2177 Takaomachi, Hachioji, Tokyo 193-8686, Japan
Observatory - The view from the top of Mt. Takao is amazing. Even better during the summer time (from 15th of June till 15th of October) a beer garden opens its doors at the summit.
Hiking courses - Trail number 1 (Omotesando Trail) with a length of 3.3km is the longest and most popular and guides you along the most important sightseeing spots. Be aware it can get really crowded.
A quick overview of the other trails:
Trail number 2 (Kasumidai Loop): 0.9km
Trail number 3 (Katsura Woods Trail): 2.4km
Trail number 4 (Suspension Bridge Trail): 1.5km
Trail number 5 (Peak Loop Trail): 0.9km
Trail number 6 (Biwa Waterfall Trail): 3km
Every trail ends up at the summit of Mount Takao.
Takosugi - The roots of this 500 years old cedar tree are shaped like the legs of an octopus. For the locals Takosugi is a symbol of good luck. The tree with a height of 37m can be found near the monkey park.
Keio Takaosan Onsen Gokurakuyu - This natural hot spring at the foot of Mount Takao is the perfect place for a relaxing time after a long hiking day.
Address: 2229-7 Takaomachi, Hachioji, Tokyo 193-0844, Japan
Kissa Kobo Ippuku teahouse - This is the perfect spot for a break during your hiking tour. The green tea and sweets there are excellent.
Festival & Events
(dates can change without notice)
March
Firewalking (second Sunday of March)
The ritual is called Saito Goma-ku and is held in front of the Kito-den Hall at the foot of Mt. Takao.
November
Takaosan Momiji Matsuri (Maple Leaf Festival) (1st to 30th)
With fun events and street performances the famous momiji (maple leaf) will be celebrated.
Where to stay near Mount Takao?
My 100 Best Moments in Japan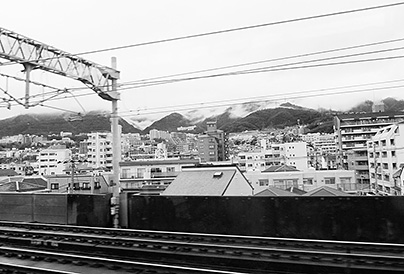 I am visiting Japan nearly every year since 2004. This is my collection of the 100 best moments in my favourite country. Enjoy the pictures and I hope you will start your own journey soon.
read more
Travelers who viewed Mount Takao viewed also: