Best Ryokans in Kyoto
Please activate Javascript.

Domo arigato.
Shimizu Ryokan

,

644 Kagiyacho, Shichijo dori, Kyoto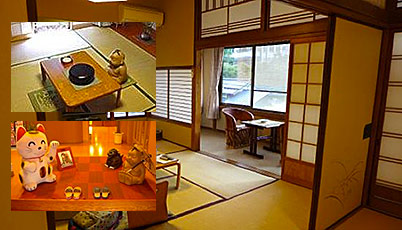 This ryokan contains 12 traditional private rooms. Good to know each meal is served in the guests private room. Shimizu Ryokan is located within the Shimogyo Ward near Kyoto Station. Many attractions like the Kyoto Tower are nearby.
Book Here
Hiiragiya Ryokan

,

Nakagyo Ward, Kyoto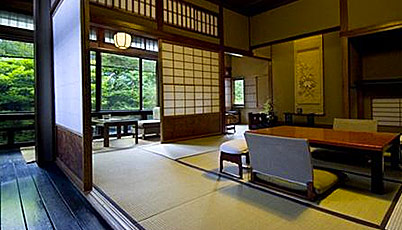 Located conveniently in the center of Kyoto (Nakagyo Ward). This 5 star ryokan provides you the perfect service with its multilingual staff. It has a beautiful decor, outstanding food, an lovely Japanese garden and limited room service.
Book Here
Hoshinoya Ryokan

,

11-2 Genrokuzancho, Nishikyo-ku, Kyoto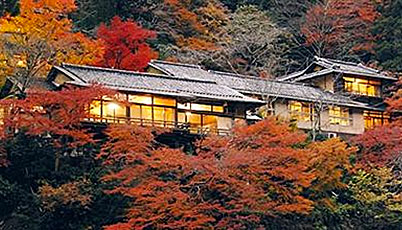 Have you ever arrived at an ryokan by boat? This service is offered with an boat cruise on the Oigawa River. Surrounded by a breathtaking scenery this 5 star ryokan takes you back in time. Expect the best service and you will not be disappointed.
Book Here
Hatanaka Ryokan

,

Gion Yasaka Jinja, Higashiyama-ku, Kyoto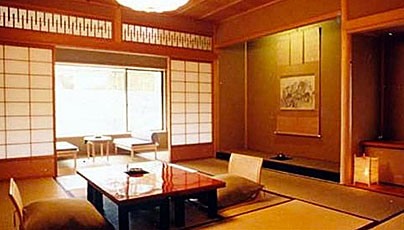 Hatakana Ryokan is located near the Maruyama-koen Park and Yasaka Shrine. The Management of the 5 star ryokan is specialized on foreign guests. The rooms are beautiful decorated. Just expect the best service and enjoy your stay.
Book Here
Seikoro Ryokan

,

467 Nishitachibana-Cho, Sanchome, Higashiyama-ku, Kyoto
This classic 4 star ryokan offers 22 unique decorated rooms. Every room provides you with great views of Japanese gardens and enjoy the fine wooden bathtubs. It is located within a walking distance of Gion and Kiyomizu-dera Temple.
Book Here
Yoshida Sanso Ryokan

,

59-1 Yoshida Shimo-ooji-cho, Sakyo-ku, Kyoto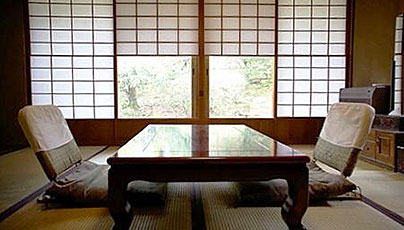 Yoshida Sanso is a traditional ryokan located in Sakyo Ward up on Yoshida-yama, a beautiful hill, close to the Kyoto University. The food is amazing and the breathtaking scenery around the ryokan makes it an unforgettable stay.
Book Here
Garden Ryokan Yachiyo

,

34 Nanzenji Fukuji-cho, Sakyo-ku, Kyoto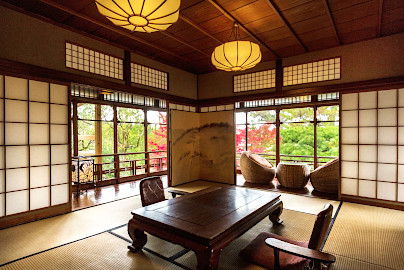 Garden Ryokan Yachiyo is a luxury ryokan located in Sakyo Ward very close to the Nanzen-ji Temple and easily accessible by the Tozai Subway Line. Enjoy the relaxing bath and wonderful views at this comfortable place.
Book Here
Ryotei Rangetsu Ryokan

,

7 Susukinobaba-cho, Sagatenryuji, Ukyo-ku, Kyoto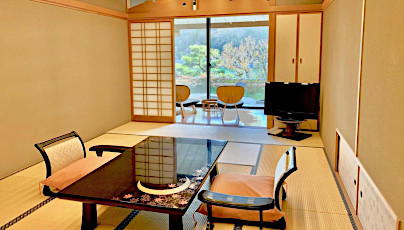 The 4 star ryokan is located in Ukyo Ward near Arashiyama train station (10min walking distance). Guests gave Rangetsu Ryokan the rating fabulous. The rooms feature Japanese futon bedding and tatami floors.
Book Here
Nishiyama Ryokan

,

433 Yamamotocho, Nakagyo-ku, Kyoto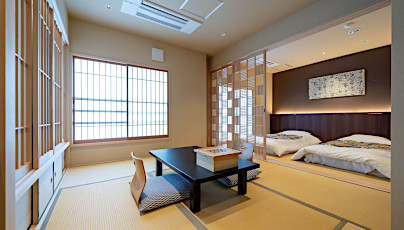 The 4 star Nishiyama Ryokan offers 30 traditional Japanese rooms and is located in the heart of Kyoto within the Nakagyo Ward. Shiyakusho-Mae Subway Station is just around the corner (5min walk). Don´t miss out the delicious breakfast and enjoy the atmosphere.
Book Here
Momijiya Ryokan

,

Takao Umegahata, Ukyo-ku, Kyoto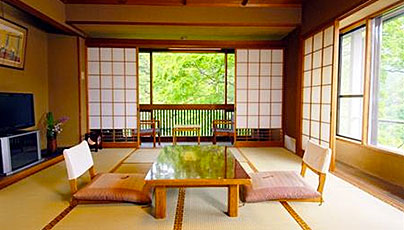 Momijiya Ryokan is surrounded by gorgeous nature. It is located along the Kiyotakigawa River within the Ukyo Ward. The traditional rooms offer private outdoor baths with great forest views. The Edo-period comes alive in this amazing setting.
Book Here
Search Hotels in Kyoto