Mt. Fuji
Please activate Javascript.

Domo arigato.
Mt. Fuji View From Togendai-Gora Ropeway, Hakone

Mt. Fuji View From Yokohama

Mt. Fuji View From Yokohama

Mt. Fuji View From Shinkansen Between Tokyo And Osaka

Mt. Fuji View From Shinkansen Between Tokyo And Osaka

Mount Fuji View From Lake Kawaguchiko, Fuji Five Lakes

View From Mt. Tenjo With Mt. Fuji In The Background

Mt. Fuji View From Lake Ashinoko, Fuji-Hakone-Izu National Park

Mt. Fuji View From Fuji-Q Highland Amusement Park, Kawaguchiko

Mt. Fuji View From Shinkansen

Mount Fuji View From Fuji-Hakone-Izu National Park
This post can contain affiliate links, which means that we may receive a small commission if you make a purchase using these links.
Facts & Figures
Mt. Fuji is with 3776,24m the highest and most famous mountain in Japan. This symbol of Japan is praised for the perfectly shaped volcanic cone. Mt. Fuji is one of the "Three Holy Mountains" in Japan besides Mount Haku and Mount Tate. In the year 2010 app. 320 000 people made its way up to the top.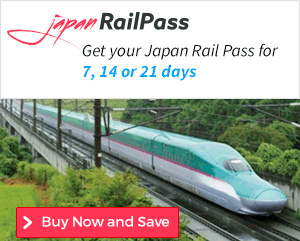  Buy now and Save >
Since 2004 I travel nearly every year to Japan. The rail pass made my life easier to discover all those amazing places in my favourite country.
My tips for local activities
How about exploring the beautiful Mount Fuji area within a day trip from Tokyo with a local guide. Check out this page > for more tour details.
History
The last eruption of Mount Fuji happend in 1708. It is this combination of danger and beauty which makes it so appealing for artists and common people. One famous example of art created by Katsushika Hokusai (1760–1849) are the "36 views of Mt. Fuji". It is a series of large, color woodblock prints. In 2013 Mt. Fuji received the status of a UNESCO World Heritage Site.
Location
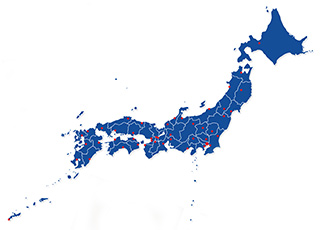 Mount Fuji is located within the Fuji-Hakone-Izu National Park in the Yamanashi and Shizuoka Prefectures.
How to get to Mt. Fuji?
 2hrs from Tokyo Shinjuku Station to Kawaguchiko Station by Keio and Fujikyu Bus
 70min from Tokyo Shinjuku Station to Otsuki Station by JR Chuo Line and
 55min from Otsuki Station to Kawaguchiko Station by Fujikyu Railway Line
 50min from Kawaguchiko Station to Kawaguchiko 5th Station by local bus
 5-7hrs from Kawaguchiko 5th Station via Yoshida Trail to the top
Sightseeing spots
Top:
Mt. Fuji climb - there are many paths on the way up to the summit, enjoy the sunrise called Goraiko from the top, an unforgettable moment
Paragliding - start is from the fifth station Gotemba parking lot
Fuji Five Lakes - visit these beautiful lakes (Lake Kawaguchi, Lake Yamanaka, Lake Saiko, Lake Shoji and Lake Motosu) located north of Mount Fuji
Hakone - the Hakone area with Lake Ashi near Mt. Fuji is the perfect day trip from Tokyo
Fujisan Hongu Sengentaisha - this shrine located in the city of Fujinomiya, is the headquarter for over 1300 Sengen shrines in Japan
Festival & Events
(dates can change without notice)
August
Yoshida no Himatsuri (26th till 27th)
The Yoshida Fire Festival held at Fuji Sengen Shrine in Fujiyoshida is celebrating the end of the climbing season. It belongs to Japan's three most unique festivals with more than 500 years of history.
Where to stay in Fujinomiya?
My 100 Best Moments in Japan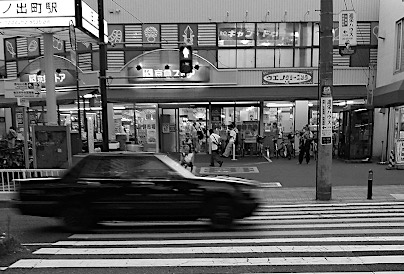 I have visited Japan nearly every year since 2004. This is my collection of the 100 best moments in my favourite country. Enjoy the pictures and I hope you will start your own journey soon.
Find out more >
Books about Japan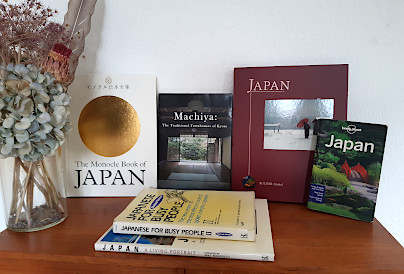 Reading books is a great source of inspiration for me. Check out my recommended list of books about the fascinating country Japan.
My Book recommendations >
Travelers who viewed Mt. Fuji viewed also: