Mount Misen, Miyajima

Show map

Show gallery
Please activate Javascript.

Domo arigato.
Mount Misen, Miyajima

Mount Misen, Miyajima

Mount Misen, Miyajima

Mount Misen, Miyajima

Mount Misen, Miyajima

View From Mount Misen, Miyajima
Facts & Figures
The sacred Mount Misen is with 535 m above sea level the highest mountain on Miyajima Island. From the top you have amazing views over the Seto Inland Sea.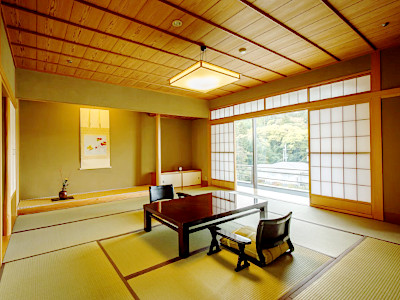 Explore Ryokans in Miyajima
Ryokans are the perfect way to discover old Japanese culture and traditions. The primeval forest of the north side of Mount Misen is protected by the Hiroshima prefecture.
Miyajima Ropeway:

Running Hours

- 9:00 am to 4:30 pm, return time latest at 5:00 pm

Closed

- twice a year for maintenance (around February and July)

Admission Fee Round trip

- 1800 yen (Adults), 900 yen (Child)
History
Mount Misen is since ancient times an important destination for pilgrimage. Monk Kukai, also known as Kobo-Daishi and founder of Shingon Buddhism, visited this place in 806.
Location
Show map
Mount Misen is located on Miyajima Island within the city Hatsukaichi in the southwestern part of the Hiroshima prefecture.
How to get to Mount Misen?
 10min from Itsukushima Shrine to Miyajima Ropeway (20min ride)
Sightseeing spots
Top:
Shishiiwa Station Observatory Hall - Located at the second floor of the station. Enjoy the amazing views!
Miyajima Ropeway - One of the highlights and must-do activities at Miyajima.
Mt. Misen Observatory - After a 30min walk from the last ropeway station you can enjoy the view from the top. It is an unforgettable experience.
Temple buildings near the summit - I would recommend you the visit Reikado (Hall of the Spiritual Flame) and Misen Hondo (Main Hall).
Festival & Events on Miyajima
(dates can change without notice)
February
Miyajima Oysters Festival (9th till 10th)
Miyajima is famous for its oysters. This festival gives you the chance to enjoy this delicious food.
March
Kiyomori Festival (22nd)
The Itsukushima Shrine prayer parade is held from 1 to 3pm.
August
Kangensai Festival (4th)
The largest annual festival at the Itsukushima Shrine is dating back to the Heian period.
Miyajima Water Fireworks Display (11th)
Every year more than 300 000 visitors enjoy this spectacle. It is considered to be one of the most famous in Japan.
November
Hiwatarishiki in Daiganji (3rd)
Monks from Miyajima island walk over fire during the ceremony. If you are brave enough you can join them:)
Travelers who viewed Mount Misen, Miyajima viewed also: