Daisho-in Temple, Miyajima

Show map

Show gallery
Please activate Javascript.

Domo arigato.
Daisho-in Temple, Miyajima

Chokugan-do Hall, Daisho-in Temple

Maniden Hall, Daisho-in Temple

Maniden Hall, Daisho-in Temple

Kannon-do Hall, Daisho-in Temple

Spinning Wheels Of Sutra, Daisho-in Temple

Spinning Wheels Of Sutra, Daisho-in Temple

Hakkaku Manpuku Hall, Daisho-in Temple

Kyakuden Hall, Daisho-in Temple
Facts & Figures
Daisho-in temple complex at Miyajima Island is known as the most important temple of Shingon Buddhist school of Omuro. It is also the oldest temple on Itsukushima.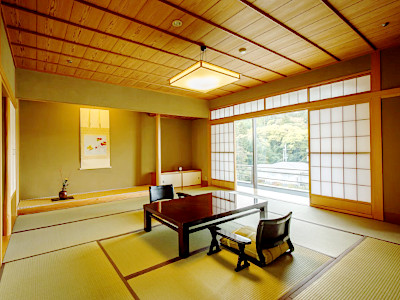 Explore Ryokans in Miyajima
Ryokans are the perfect way to discover old Japanese culture and traditions. The temple ground consits of buildings like the Hakkaku Manpuku Hall, Kannon-do Hall, Maniden Hall, Nio-mon Gate, Kyakuden Hall and many more. The location with the holy Mount Misen and its thick forest as an backdrop is simply amazing. Daisho-in is also the 14th temple along the Chugoku 33 Kannon Pilgrimage.
Daisho-in temple complex:

Opening Hours

- 8:00 am to 5:00 pm

Closed

- never, open the whole year

Admission Fee

- free
History
Monk Kukai, also known as Kobo-Daishi and founder of Shingon Buddhism, established Daisho-in in 806. Emporer Toba (1103 - 1156) gave the order to pray at this temple for the security and peace of Japan. Emperor Meiji honored Daisho-in by spending time there in 1885. Until the separation of Shinto from Buddhism during Meiji period (1868 - 1912), the head priest of Itsukushima Shrine engaged in politics here. In 1991 a strong typhoon destroyed parts of the temple.
Location
Show map
Daisho-in Temple is located on Miyajima Island within the city Hatsukaichi in the southwestern part of the Hiroshima prefecture.
How to get to Daisho-in Temple?
 4-5hrs from Tokyo to Hiroshima Station by JR Tokaido-Sanyo Shinkansen Line
 25min from Hiroshima Station to Miyajima-guchi Station by JR Sanyo Line and
 10min from Miyajima-guchi Station to Miyajima by ferry
 5min from Itsukushima Shrine to Daisho-in
Sightseeing spots at the temple grounds
Top:
Nio-mon Gate - The official and impressive gateaway into the temple grounds.
Sand Mandala - This was created by monks from Tibet.
500 Rakan Statues - Located at the steps of the temple and every statue has a unique face.
Maniden Hall - It is the main prayer hall where the Three Awesome Deities (Sanki Daigongen) of Mount Misen are enshrined.
Daishi-do Hall - The founder of the temple, Kobe Daishi, is enshrined here.
Hakkaku Manpuku Hall - The Seven Deities of Good Fortune are enshrined in this hall.
Kannon-do Hall
Kyakuden Hall
Festival & Events on Miyajima
(dates can change without notice)
February
Miyajima Oysters Festival (9th till 10th)
Miyajima is famous for its oysters. This festival gives you the chance to enjoy this delicious food.
March
Kiyomori Festival (22nd)
The Itsukushima Shrine prayer parade is held from 1 to 3pm.
August
Kangensai Festival (4th)
The largest annual festival at the Itsukushima Shrine is dating back to the Heian period.
Miyajima Water Fireworks Display (11th)
Every year more than 300 000 visitors enjoy this spectacle. It is considered to be one of the most famous in Japan.
November
Hiwatarishiki in Daiganji (3rd)
Monks from Miyajima island walk over fire during the ceremony. If you are brave enough you can join them:)
Travelers who viewed Daisho-in Temple, Miyajima viewed also: