Toshogu Shrine (Nikko)

Show map

Show gallery
Please activate Javascript.

Domo arigato.
Yomeimon Gate, Toshogu Shrine, Nikko

Yomeimon Gate, Toshogu Shrine, Nikko

Yomeimon Gate, Toshogu Shrine, Nikko

Yomeimon Gate, Toshogu Shrine, Nikko

Gojunoto Five-Story Pagoda, Toshogu Shrine

Toshogu Shrine, Nikko

Kamijinko Shoro, Toshogu Shrine, Nikko

Nikko National Park Toshogu Shrine

Nikko National Park Toshogu Shrine

Nikko National Park Toshogu Shrine

Nikko National Park Three Monkeys
Facts & Figures
The Shinto Shrine Toshogu is located within the Nikko National park and is part of Nikko's UNESCO World Heritage Sites. Toshogu is famous for its decorative and architectural masterpieces that are very closely aligned with the history of the Tokugawa Shoguns.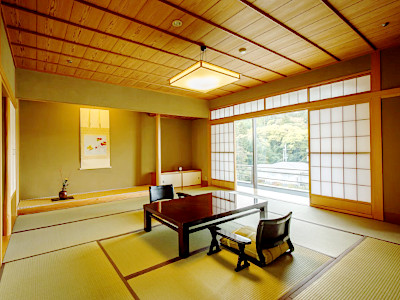 Explore Ryokans in Nikko
Ryokans are the perfect way to discover old Japanese culture and traditions. The shrine hosts the mausoleum of Tokugawa Ieyasu (1543 – 1616), who was the founder and first shogun of the Tokugawa Shogunate. The bountifully decorated shrine complex is made up of 55 buildings that are set in a sprawling forest. Yomeimon, one of the most beautiful gates in Japan, can be found there.
Toshogu Shrine:

Opening Hours

- 08:00 am to 5:00 pm (from April till October, last entry 4:30 pm)

Opening Hours

- 08:00 am to 4:00 pm (from November till March, last entry 3:30 pm)

Closed

- never

Admission Fee for Toshogu Shrine

- 1300 yen (High school students and older), 450 yen (Elementary and junior high school students)

Admission Fee for Treasure House

- 500 yen (Adults), 300 yen (High school students and older), 200 yen (Elementary and junior high school students)

Admission Fee for Toshogu Museum of Art

- 800 yen (Adults), 600 yen (High school students and older), 400 yen (Elementary and junior high school students)
History
Toshogu Shrine was built in 1617 and dedicated to shogun Ieyasu Tokugawa (founder of the Tokugawa Shogunate). The buildings you can see today are dating back to 1636. It took 400000 carpenters just 17 months to construct the whole temple complex. Responsible for this gigantic undertaking was the governor of Tajima Province Akimoto Yasutomo (1580 - 1642) with the help of master carpenter Kora Bungo-no-Kami Munehiro (1574 - 1646). The value of this project was calculated with 40 billion yen by today's standards. In 1999 the shrine complex was registered as a UNESCO World Heritage site.
Location
Show map
Toshogu Shrine is located just next to the Rinno-ji Temple in Nikko within the Tochigi Prefecture.
Address: 2301 Sannai, Nikko-shi, 321-1431 Tochigi
How to get to Toshogu Shrine?
 10min from JR Nikko Station by bus or
 45min from JR Nikko Station
Sightseeing spots at Toshogu
Top:
Yomeimon Gate - It is without doubt one of the most beautiful temple gates in Japan. Yomeimon has also achieved the status of an National Treasure. The carvings besides the gate are called Kairo (Corridor). This artwork is just amazing.
Five-Story Pagoda (Gojunoto) - The pagoda was built in 1618 by feudal lord Sakai Tadakatsu. In 1815 a fire destroyed the whole building and it was 3 years later reconstructed by feudal lord Sakai Tadayuki.
Main Shrine (Gohonsha) - Part of the temple complex are Haiden (Worship Hall), Honden (Main Hall) and Ishinoma (Stone Chamber). Big celebrations are held here.
Karamon Gate - This National Treasure is well known for its beautiful carvings.
Three Sacred Storehouses (Sanjinko) - All of these three buildings (Kamijinko, Nakajinko, Shimojinko) are designated Important Cultural Properties. These buildings are full with costumes used in the Procession of 1000 Samurai. This event is held twice a year.
Three Wise Monkeys (Sanzaru) - Who doesn't know the famous - See No Evil, Speak No Evil, Hear No Evil - three monkey carving:) You will find this carving at the Shinkyusha Stable, an Important Cultural Property.
Omotemon or Nio Gate - It is an Important Cultural Property and the front gate of the shrine.
Festival & Events in Nikko
(dates can change without notice)
April
Yayoi Matsuri (16th - 17th)
The Mikoshi (portable Shinto shrine) procession will be held at the Futarasan Shrine.
May
Toshogu Shrine Grand Festival (17th - 18th)
The most important annual festival in Nikko includes a horesback archery and a procession of 1000 warriors. The festival is a re-enactment of the funeral procession of Tokugawa Ieyasu (1542-1616) who founded the Tokugawa Shogunate in Edo (Tokyo).
October
Toshogu Shrine Autumn Festival (16th - 17th)
Is an repetition of the festival in May.
Travelers who viewed Rinnoji Temple viewed also: