Meiji Shrine (Meiji Shingu) in Tokyo
Please activate Javascript.

Domo arigato.
Torii at the Entrance to Meiji Shrine (Meiji-jingu) in Tokyo

Entrance Area to Meiji Shrine (Meiji-jingu) in Tokyo

South Gate of Meiji Shrine (Meiji-jingu) in Tokyo

Meiji Shrine (Meiji-jingu) in Tokyo

Meiji Shrine (Meiji-jingu) in Tokyo

Main Shrine building of Meiji-jingu in Tokyo

Meiji Shrine (Meiji-jingu) in Tokyo

Meiji Shrine (Meiji-jingu) in Tokyo

Main Shrine building of Meiji-jingu in Tokyo

Main Shrine building of Meiji-jingu in Tokyo

Ema at Meiji Shrine (Meiji-jingu) in Tokyo

Ema at Meiji Shrine (Meiji-jingu) in Tokyo

Shimenawa (Rice Paper Belt) Meiji Shrine (Meiji-jingu)

Meiji Shrine (Meiji-jingu) in Tokyo

Meiji Shrine (Meiji-jingu) in Tokyo

Chozuya at Meiji Shrine (Meiji-jingu) in Tokyo

Gate (Torii) of Meiji Shrine (Meiji-jingu) in Tokyo

Gate (Torii) of Meiji Shrine (Meiji-jingu) in Tokyo

Sake Barrels donated to Meiji Shrine (Meiji-jingu)

Sake Barrels donated to Meiji Shrine (Meiji-jingu)

Shibafu Park, Meiji Shrine Area in Tokyo

Shibafu Park Live Concert, Meiji Shrine Area

Shibafu Park, Meiji Shrine Area in Tokyo

Shibafu Park and NTT Docomo Yoyogi Building

Shibafu Park, Meiji Shrine Area in Tokyo

Shibafu Park, Meiji Shrine Area in Tokyo

Treasure Museum (Homotsuden) Sign in Shibafu Park

Treasure Museum (Homotsuden) in Shibafu Park

Treasure Museum (Homotsuden) in Shibafu Park
Facts & Figures
Meiji Shrine (Meiji Jingu) is without doubt the most famous Shinto shrine in Tokyo. Nearly ten million visitors come here every year. The shrine is dedicated to Emperor Meiji (1852 - 1912) and Empress Shoken (1849 - 1914). The emperor opened Japan to the West and laid the foundation to modernize the country. He played an important role in the Meiji Restoration (1868 - 1912), which marks the end of the feudal era.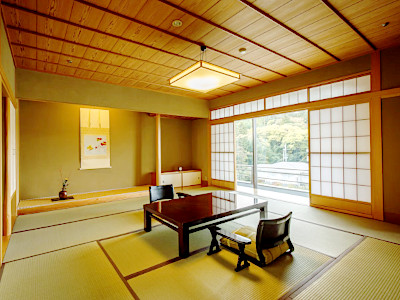  Explore Ryokans in Tokyo >
Ryokans are the perfect way to discover old Japanese culture and traditions. The Meiji Shrine is located within an 708200 square meter park and consists of an inner (Naien) and outer (Gaien) precinct. The park is covered by 120000 trees, which were donated from all over the country. It is now used as a recreation area for many people living the busy Tokyo life. I would also recommend you to visit the beautiful Meiji Jingu Inner Garden, Meiji Jingu Museum and the nearby Yoyogi Park. My tip: Usually on Sunday mornings you have the chance to witness traditional Japanese wedding processions at the main shrine area.
Meiji Shrine (Meiji Jingu):

Opening Hours

- daily (whole year), from sunrise to sunset - exact time is depending on the season

Admission Fee

- free of charge
Meiji Jingu Museum:

Opening Hours

- 10:00 am to 4:30 pm (last admission at 4:00 pm)

Closed

- on Thursdays

Admission Fee

- 1000 yen (Adults), 900 yen (High school students or younger)
Meiji Jingu Inner Garden and Treasure Museum (Homotsuden):

Opening Hours

- 9:00 am to 4:30 pm (last admission at 4:00 pm, March to October)

Opening Hours

- 9:00 am to 4:00 pm (last admission at 3:30 pm, November to February)

Admission Fee

- 500 yen (Adults)
My tips for local activities
How about exploring the fascinating city Tokyo with a local guide. Check out this page > for more details about this tour.
History
After the death of Emperor Meiji in 1912 the Japanese government decided to honour him and his wife with this shrine. The construction on a former wasteland took from 1915 till 1921. During heaving bombings in World War 2 the shrine complex was completely destroyed. The reconstruction afterwards was finished in 1958 thanks to a public fundraising effort. Meiji Jingu celebrated his 100th anniversary in 2020.
Location
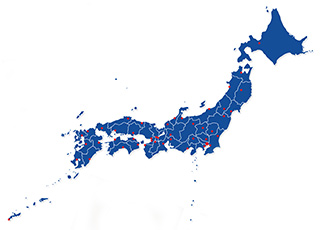 The Meiji Shrine is located within Shibuya-ku and next to the Yoyogi Park in Tokyo.
Address: 1-1 Yoyogi, Kamizono-cho, Shibuya-ku, Tokyo 151-8557
How to get to Meiji Shrine?
 5min from Harajuku Station along the JR Yamanote Line
Sightseeing spots
Top:
Entrance Gate (Torii) - The impressive 12m high entrance gate was made of 1500 year old cypress wood.
Meiji Jingu Treasure House (Homotsuden) - The treasure house was built in 1921. It was designated as a Important Cultural Property in 2011. You will see there imperial portraits and a famous court kimono.
Meiji Jingu Inner Garden - The popular garden is accessible for an entrance fee of 500 yen. Read more
Meiji Jingu Museum - The museum was designed by architect Kuma Kengo and opened for the public in 2019. The exhibition space with the size of 3200 square meter displays over two floors items related to Emperor Meiji and Empress Shoken.
Nearby:
Yoyogi Park - It is one of the largest parks in Tokyo. Read more
Harajuku - The most popular fashion hotspot area for teenagers in Tokyo. Read more
Omotesando - This place is also called the Champs-Elysees of Tokyo. Omotesando is a 1km long tree-lined (Zelkova trees) avenue with the best designer shops. Read more
Festival & Events
(dates can change without notice)
January
Saitansai - New Year's Day ritual (1st)
The Hatsumode (first shrine visit of the year) has a high importance for many Japanese. The most popular with 3 Mio. visits can be found at the Meiji Shrine.
April/May
Meiji Jingu Spring Grand Festival (29th to 3rd)
Many Shinto ceremonies are held at the shrine. Accompanied by traditional Japanese performances like Noh and Kyogen theatre, Sankyoku (traditional Japanese music), Satsuma biwa (Japanese lute), Bugaku (imperial court music), classical Japanese dance Hogaku and Hobu.
November
Autumn Grand Festival (2nd to 3rd)
The Ritual Ceremony is starting at 10:00 am and celebrates the birthday of Emperor Meiji every year on the 3rd of November.
My 100 Best Moments in Japan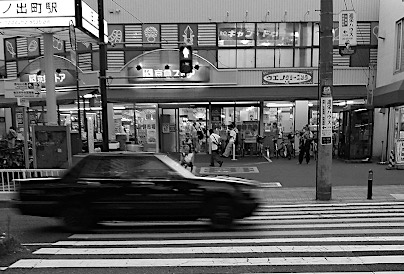 I have visited Japan nearly every year since 2004. This is my collection of the 100 best moments in my favourite country. Enjoy the pictures and I hope you will start your own journey soon.
Find out more >
Books about Japan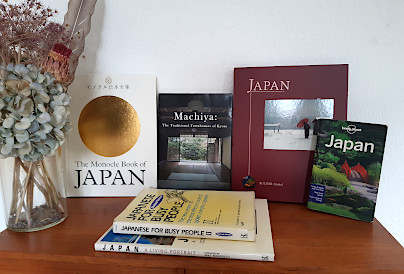 Reading books is a great source of inspiration for me. Check out my recommended list of books about the fascinating country Japan.
My Book recommendations >
Travelers who viewed Meiji Shrine viewed also: