Meiji Shrine (Tokyo)
Show map
Show gallery
Please activate Javascript.

Domo arigato.
Tokyo Meiji Shrine Entrance

Entrance Tokyo Meiji Shrine

Tokyo Meiji Shrine

Tokyo Meiji Shrine

Tokyo Meiji Shrine

Tokyo Meiji Shrine

Tokyo Meiji Shrine

Tokyo Meiji Shrine

Tokyo Meiji Shrine

Tokyo Meiji Shrine

Tokyo Meiji Shrine

Tokyo Meiji Shrine

Tokyo Meiji Shrine

Tokyo Meiji Shrine

Tokyo Meiji Shrine

Tokyo Meiji Shrine Chozuya

Tokyo Meiji Shrine Torii

Tokyo Meiji Shrine Torii

Sake Barrels Donated To Meiji Shrine

Sake Barrels Donated To Meiji Shrine

Shibafu Park, Meiji Shrine Area

Shibafu Park Live Concert, Meiji Shrine Area

Tokyo Shibafu Park, Meiji Shrine Area

Tokyo Shibafu Park With The NTT Docomo Yoyogi Building In The Background

Tokyo Shibafu Park, Meiji Shrine Area

Tokyo Shibafu Park, Meiji Shrine Area

Treasure Museum (Homotsuden) Sign, Shibafu Park

Treasure Museum (Homotsuden), Shibafu Park

Treasure Museum (Homotsuden), Shibafu Park
Facts & Figures
The most famous and popular Shinto shrine in Tokyo is without any doubt the Meiji Shrine (Meiji Jingu). The shrine is dedicated to Emperor Meiji (1852 - 1912) and Empress Shoken (1849 - 1914).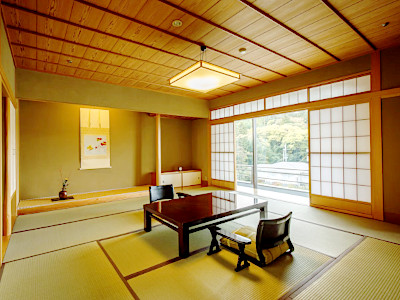 Explore Ryokans in Tokyo
Ryokans are the perfect way to discover old Japanese culture and traditions. The emporer opened Japan to the West. He played an important role in the Meiji Restoration (the end of the feudal era). The Meiji Shrine is located within an 175-acre park. The park is covered by 120.000 trees and is used as an relaxing area for many people living the busy Tokyo life. I would also recommend you to visit the beautiful Meiji Jingu Inner Garden.
History
The construction of the Meiji Shrine took from 1915 till 1921. During World War 2 the shrine complex was completely destroyed. The reconstruction was finished in 1958.
Location
Show map
The Meiji Shrine is located within Shibuya-ku in Tokyo.
How to get to Meiji Shrine?
 5min from Harajuku Station along the JR Yamanote Line
Sightseeing spots
Top:
Torii at the entrance - 12m high and made of 1500 year old cypress
Meiji Jingu Treasure House - Emperor Meiji's and Empress Shoken's belongings are on display
Inner Garden - popular garden accessible for an entrance fee of 500 yen
Yoyogi Park - Yoyogi Park nearby is one of the largest parks in Tokyo
Festival & Events
(dates can change without notice)
January
Saitansai - New Year's Day ritual (1st)
The Hatsumode (first shrine visit of the year) has a high importance for many Japanese. The most popular with 3 Mio. visits can be found at the Meiji Shrine.
April/May
Meiji Jingu Spring Grand Festival (29th to 3rd)
Many Shinto ceremonies are held at the shrine. Accompanied by traditional Japanese performances like Noh and Kyogen theatre, Sankyoku (traditional Japanese music), Satsuma biwa (Japanese lute), Bugaku (imperial court music), classical Japanese dance Hogaku and Hobu.