Enoshima
Please activate Javascript.

Domo arigato.
Enoshima Sagami Bay with Mt. Fuji

Inamuragasaki Cape Enoshima Island
This post can contain affiliate links, which means that we may receive a small commission if you make a purchase using these links.
Facts & Figures
The small offshore island Enoshima (circumference of 4km) is a very popular tourist destination and the opposite Katase-Kaiganon shore is the closest seaside resort to Yokohama and Tokyo. The beach, famous for its great surf spots, extends to Kamakura in the east and Chigasaki in the west. Be prepared for a very crowded place during summertime season (1st of July till end of August).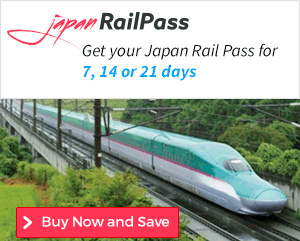  Buy now and Save >
Since 2004 I travel nearly every year to Japan. The rail pass made my life easier to discover all those amazing places in my favourite country. The 600 meter long Enoshima-ohashi Bridge provides the main access to the island. Enoshima offers many sightseeing spots like a botanical garden, lighthouse, shrines, caves, aquarium and a nice yacht harbor. You should also consider to buy the Enoshima 1-Day Passport (Enopass) which gives you free access to many attractions, discounts in restaurants and gift shops including a round trip ticket for certain train lines.
Enopass - valid for 1 day:

From Shinjuku

- 1970 yen (adults), 990 yen (children)

From Shinyurigaoka

- 1670 yen (adults), 840 yen (children)

From Machida

- 1550 yen (adults), 780 yen (children)
My tips for local activities
How about exploring the beautiful city Kamakura and its historical places with a local guide. Check out this page > for more details.
History
The history of the famous Enoshima Shrine goes back till 552. Three smaller Shinto shrines, Hetsuno-miya (built in 1206), Nakatsuno-miya (built in 853) and Okutsuno-miya, are collectively called Enoshima-jinja. This Shinto shrine is dedicated to worship the Benzaiten or also called Benten, one of the seven Japanese Gods of Good Fortune. A popular goddess of eloquence, knowledge, good fortune, wealth and music. It is the main deity to go to for entertainers and artists.
Location
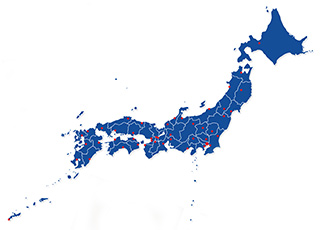 Enoshima is located at the Sagami Bay at the mouth of the Sakai River within the Kanagawa Prefecture.
How to get to Enoshima?
 50min from Tokyo Station to Fujisawa Station by JR Tokaido Line and
 10min from Fujisawa Station to Enoshima Station by Enoden Line or
 1hr from Shinjuku Station (Tokyo) to Katase-Enoshima Station by Odakyu Line
Sightseeing spots
Top:
Enoshima Sea Candle - the lighthouse / observation deck is nearly 60m high and offers great views over the area
Samuel Cocking Garden - enjoy the botanical garden founded by the British trader Samuel Cocking
Enoshima-jinja Shrine - a Shinto shrine best known for its rather unusual display of a naked statue of Benzaiten
Iwaya Caves - 2 easy accessible caves are located at the southern coast of Enoshima
Enoshima Aquarium - this modern aquarium offers over 20000 marine creatures, a school of 8000 spotlined sardines, deep-sea fish, jelly fish, sea lion and dolphin shows
Love Bell - popular spot for couples in love, they ring the bell together and put their locks on a fench
Festival & Events
(dates can change without notice)
April
Kamakura Matsuri (from 2nd to 3rd Sunday)
The city and its history will be celebrated
August
Bonbori Matsuri (7th till 9th)
Hundreds of lanterns can be found around Tsurugaoka Hachiman-gu shrine
September
Reitai Matsuri (14th till 16)
Great festival with its most famous attraction the Japanese horseback archery
October
Fujisawa Enoshima Fireworks Festival (15th)
This firework is enjoyed by thousands of visitors. It is located at the beachfront of Katase Enoshima. Starting time is 6:00 pm till 6:45 pm.
Where to stay near Enoshima?
My 100 Best Moments in Japan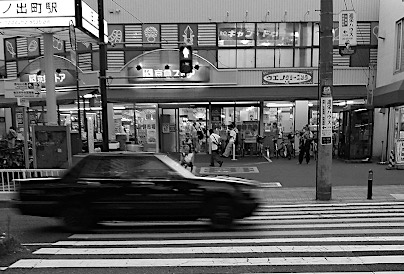 I have visited Japan nearly every year since 2004. This is my collection of the 100 best moments in my favourite country. Enjoy the pictures and I hope you will start your own journey soon.
Find out more >
Books about Japan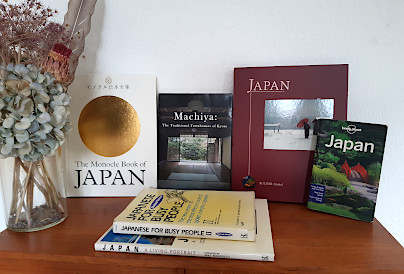 Reading books is a great source of inspiration for me. Check out my recommended list of books about the fascinating country Japan.
My Book recommendations >