Kyoto Tower
Please activate Javascript.

Domo arigato.
Kyoto Tower

Kyoto Tower

Kyoto Tower

Kyoto Tower
Facts & Figures
The Kyoto Tower with its height of 131 meter is the tallest building in Kyoto. The observation deck, 100 meter above ground, offers amazing views over the ancient city Kyoto, mountains of Higashiyama, Arashiyama and even some buildings of Osaka are visible. The modern steel tower with an weight of 800 tons was built on top of a 9 floor high building complex. The building is housing the Kyoto Tower Hotel (3 Stars), shops, restaurants and a nice onsen (public bath) in the basement.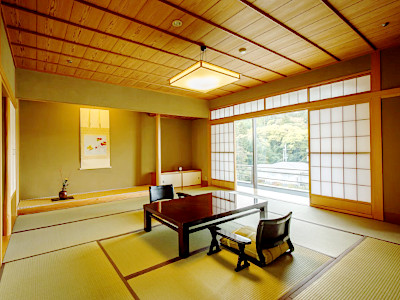 Explore Ryokans in Kyoto
Ryokans are the perfect way to discover old Japanese culture and traditions.
Kyoto Tower:

Opening Hours

- 9:00 am to 8:40 pm

Closed

- open all year

Admission Fee

- 770 yen (Adults), 620 yen (High school students), 520 yen (Junior high and elementary school students), 150 yen (3 to 6 years)
History
Kyoto Tower was designed by Makoto Tanahashi. The construction phase started in 1963 and in December 1964 the Kyoto Tower was open for the puplic. 1964 was also the year of the Summer Olympic Games in Tokyo.
Location
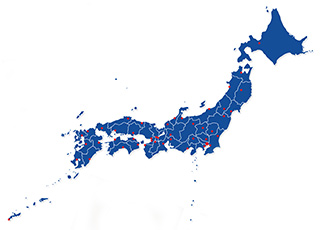 Kyoto Tower is located opposite to the Kyoto Station (North side) within the Shimogyo district.
Address: Karasuma-dori Shichijo-sagaru, Shimogyo-ku, Kyoto City
How to get to Kyoto Tower?
 1min walk from Kyoto St. served by JR Line, Karasuma Subway Line, Kyoto City Bus
Sightseeing spots
Top:
Observation deck - around 400 000 visitors/year enjoy this amazing view
Onsen - after a busy sightseeing day take a rest in the public bath in the basement
Festival & Events
(dates can change without notice)
April
Miyako Odori (1st - 31th)
The traditional annual spring dance of the Kyoto district Gion Kobu performed by Geiko and Maiko is a must-see on your Kyoto visit. Don't miss the most popular dances the Miyako Odori "Cherry Blossom Dances" or "Dances of the Old Capital" at the Gion Kobu Kaburenjo Theater (located close to Gion Corner).
May
Aoi Matsuri (15th)
The highlight of this festival is a large parade from Imperial Palace through Shimogamo Shrine to the Kamo Shrines. More than 500 people wearing aristocratic costumes from the Heian Period (794 - 1185). The Aoi Matsuri belongs with the Gion Matsuri and Jidai Matsuri to the three most famous festivals in Kyoto.
July
Gion Matsuri (whole month)
The month July is full of different events like the Yoiyama - Kyoto's Magical Night (locals in kimonos look at the giant Gion floats the day before the parade) or the famous Yamaboko Junko (float procession on the 17th of July).
October
Jidai Matsuri ("Festival of Ages") (22nd)
People celebrate with a large parade between Imperial Palace to Heian Shrine the anniversary of the foundation of Kyoto. App. 2000 participants wearing historical costumes from different time periods. Enjoy this great festival which last around 2 hours.
Where to stay in Kyoto?
My 100 Best Moments in Japan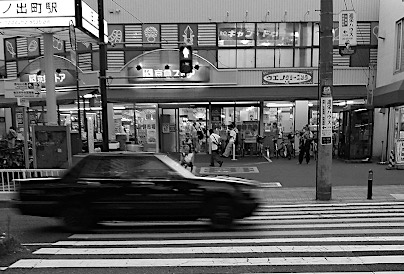 I have visited Japan nearly every year since 2004. This is my collection of the 100 best moments in my favourite country. Enjoy the pictures and I hope you will start your own journey soon.
Find out more >
Travelers who viewed Kyoto Tower viewed also: