Kinkaku-ji (Kyoto)

Show map

Show gallery
Please activate Javascript.

Domo arigato.
Kinkaku-ji Temple Of The Golden Pavilion In Kyoto

Kinkaku-ji Temple Of The Golden Pavilion In Kyoto

Kinkaku-ji Temple Of The Golden Pavilion In Kyoto

Kinkaku-ji Temple Of The Golden Pavilion In Kyoto

Kinkaku-ji Temple Golden Pavilion Garden In Kyoto
Facts & Figures
The Zen Buddhist Temple Kinkaku-ji or "Temple of the Golden Pavilion" is a UNESCO World Heritage Site in Kyoto. Kinkaku-ji officially named Rokuonji Temple is a three-story building (height: 12.5m) with the two upper stories completely covered in gold leaf. Every floor of the temple stands for a different architecture style (1st floor: Shinden style for palace buildings - Heian Period, 2nd floor: Bukke style for samurai residence, 3rd floor: Chinese Zen Hall style with golden phoenix on top).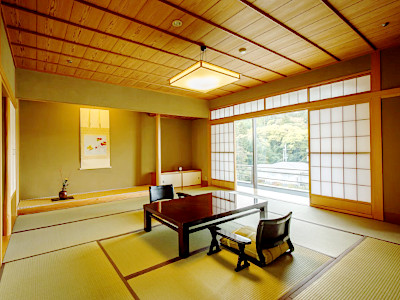 Explore Ryokans in Kyoto
Ryokans are the perfect way to discover old Japanese culture and traditions. The temple is one of the most popular and beautiful buildings in and outside of Japan. The surrounding garden (kaiyu-shiki-teien) with the Kyoko-chi pond (Mirror Pond) in its center is the perfect showcase of Japanese garden design during the Muromachi period (1337 - 1573). The garden uses the principals of borrowed scenery, which extends or connects the inside garden with the outside scenery.
Kinkaku-ji

Opening Hours

- 9:00 am to 5:00 pm (whole year)

Admission Fee

- 400 yen (Adults), 300 yen (Elementary and Junior High School Students)
History
Kinkaku-ji (formal name: Rokuon-ji) was originally built as the residence of shogun Ashikaga Yoshimitsu. After his death in 1408 the villa was converted into a temple of the Zen sect of Buddhism. Over the years the Kinkaku-ji temple was burnt down many times (twice during Onin War / civil war 1467 - 77). In 1950 the pavilion was burnt down by novice monk Hayashi Yoken. The current structure was rebuilt in 1955. Kinkaku-ji was also an important model for Ginkaku-ji ("Temple of the Silver Pavilion") and the Shokoku-ji Buddhist Temple in Kyoto.
Location
Show map
Kinkaku-ji is located in northern Kyoto.
Address: 1 Kinkakuji-cho, Kita-ku, Kyoto
How to get to Kinkaku-ji?
 40min from Kyoto Station by bus 101 or 205 or
 15min from Kyoto Station by Karasuma Subway Line to Kitaoji Station and
 10min by bus 101, 102, 204, 205 to Kinkakuji
Sightseeing spots
Top:
Kinkaku-ji (Golden Pavilion) - the architecture is simply breathtakingly beautiful
Kyoko-chi pond (Mirror Pond) - gets its name from the Kinkaku-ji reflection in the water
Anmintaku Pond - beautiful little pond with a mound of white snake called "Shirohebi no Tsuka"
Hojo - head priest's former living quarters, also known for their painted sliding doors (fusuma)
Sekkatei Teahouse - was built during the Edo Period
Toryumon (Dragon Waterfall) - Chinese legend says: any fish who can swim up a waterfall will turn into a dragon
Festival & Events
(dates can change without notice)
May
Aoi Matsuri (15th)
The highlight of this festival is a large parade from Imperial Palace through Shimogamo Shrine to the Kamo Shrines. More than 500 people wearing aristocratic costumes from the Heian Period (794 - 1185). The Aoi Matsuri belongs with the Gion Matsuri and Jidai Matsuri to the three most famous festivals in Kyoto.
July
Gion Matsuri (whole month)
The month July is full of different events like the Yoiyama - Kyoto's Magical Night (locals in kimonos look at the giant Gion floats the day before the parade) or the famous Yamaboko Junko (float procession on the 17th of July).
October
Jidai Matsuri ("Festival of Ages") (22nd)
People celebrate with a large parade between Imperial Palace to Heian Shrine the anniversary of the foundation of Kyoto. App. 2000 participants wearing historical costumes from different time periods. Enjoy this great festival which last around 2 hours.
Travelers who viewed Kinkaku-ji viewed also:
Search Hotels in Kyoto