Seiganto-ji Temple
Please activate Javascript.

Domo arigato.
Pagoda of Seiganto-ji Temple with Nachi Falls
This post can contain affiliate links, which means that we may receive a small commission if you make a purchase using these links.
Facts & Figures
The Tendai Buddhist temple Seiganto-ji (Temple of the Blue Waves) is part of the UNESCO World Heritage Site - Sacred Sites and Pilgrimage Routes in the Kii Mountain Range. It is the first out of 33 temples on the famous Saigoku Kannon Pilgrimage route. Seiganto-ji is located near the beautiful Nachi Falls and Kumano Nachi Taisha (Nachi Grand Shrine). The temple is dedicated to the goddess of mercy (Kannon) and belongs to one of the three centers of the Kumano faith.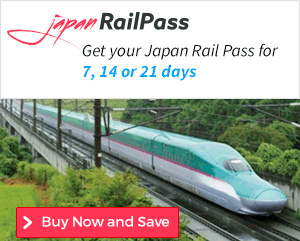  Buy now and Save >
Since 2004 I travel nearly every year to Japan. The rail pass made my life easier to discover all those amazing places in my favourite country. This sacred place combines Shinto and Buddhist religions. Part of Seiganto-ji temple grounds is the famous three-story pagoda. The pagoda with an height of 25 meters is located near the main building. Another highlight is the Ryuhoden (Treasure Hall) with many historical important items on display. Those items like mirrors, statues, Buddhist images, Sutra cylinders and altar fittings were found close to the Nachi Falls in 1918 when a Sutra mound was excavated. Do not miss Nyohodo, also known as the hall of lanterns. It is one of the highlights of the Seiganto-ji temple grounds.
Seiganto-ji Three-story Pagoda:

Opening Hours

- daily, 8:30 am to 4:00 pm

Closed

- never, open for the whole year

Admission Fee

- 300 yen
My tips for local activities
How about exploring the famous Kumano Kodo Pilgrimage Trail with a local guide. Check out this page > for more details.
History
It is said (temple legend) that Seiganto-ji was founded by an monk from India with the name Ragyo-shonin during the 4th century. The original temple was the oldest in the Kumano area. The powerful samurai daimyo Oda Nobunaga (1534 - 1582) gave order to burn the temple down. In 1587 the temple was rebuilt by shogun Toyotomi Hideyoshi. Nearly 300 years later the decision was made to reconstruct the famous three-story pagoda, which was destroyed by a huge fire at that time. This project was completed in 1972. In 2004 Seigantoji was designated as a UNESCO World Heritage Site.
Location
Show map
Seiganto-ji is located in the southern part of the Wakayama Prefecture near the coastal hot spring resort of Katsuura.
Address: 8 Nachisan, Nachikatsuura, Higashimuro District, Wakayama 649-5301
How to get to Seiganto-ji Temple?
 3hrs 10min from Nagoya Station to Shingu Station by JR Kansai and Kise Line or
 4hrs from Shin-Osaka Station to Shingu Station by JR Hanwa and Kise Line and
 21min from JR Shingu Station to Nachi Station by JR Kise Line and
 20min from Nachi Station to Seiganto-ji by bus
Sightseeing spots
nearby:
Kumano Nachi Taisha - is a Shinto Shrine and belongs to the three Kumano Sanzan shrines (Hayatama Taisha, Hongu Taisha, Nachi Taisha - Three Grand Shrines of Kumano) and is part of the UNESCO World Heritage Site - Sacred Sites and Pilgrimage Routes in the Kii Mountain Range
Nachi Falls (Nachi no Taki) - is with 133 meters the tallest (uninterrupted) single drop waterfall in Japan and famous for its beautifu scenery
Kumano Kodo pilgrimage routes - connects the other sacred UNESCO sites in the area - Koya-san, Hayatama Taisha, Hongu Taisha, Nachi Taisha
Nachi Kogen Koen - The Nachi Highland Park offers amazing views over the surrounding mountains and it is just a 30min walk away from the Seigantoji Temple.
Myohosanamidaji Temple - You can reach this beautiful temple in 10min by car from Seiganto-ji.
Festival & Events
(dates can change without notice)
July
Nachi-no-Hi-Matsuri (Fire Festival of Nachi) (14th of July)
The Nachi-no-Hi-Matsuri is one of the three largest fire festivals within Japan. It is held at Kumano Nachi Taisha (Grand Shrine). 12 pine torches with an incredible weight of 50 kg each are carried and waved around. The torches represent the 12 months of the year and the 12 deities (gods) dwelling in Kumano. The annual Fire Festival celebrates the god coming back to his original place, Nachi Falls (Nachi no Taki).
December - New Year's Eve
Illumination of the Nachi Falls
At night on New Year's Eve the falls are lit up and give this place a mythical atmosphere.
Where to stay near Seiganto-ji?
My 100 Best Moments in Japan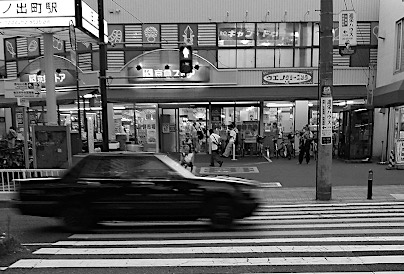 I have visited Japan nearly every year since 2004. This is my collection of the 100 best moments in my favourite country. Enjoy the pictures and I hope you will start your own journey soon.
Find out more >
Books about Japan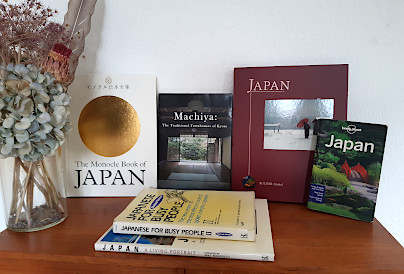 Reading books is a great source of inspiration for me. Check out my recommended list of books about the fascinating country Japan.
My Book recommendations >
Travelers who viewed Seiganto-ji Temple viewed also: