Myoshin-ji Temple in Kyoto
Please activate Javascript.

Domo arigato.
Hatto Hall, Myoshin-ji Temple

Butsu-den Hall, Myoshin-ji Temple

Dai-hojo, Myoshin-ji Temple

Sanmon, Myoshin-ji Temple

Minami So-mon (South) Gate, Myoshin-ji Temple

Chokushi-mon Gate, Myoshin-ji Temple

Yokushitsu (Bathroom), Myoshin-ji Temple

Genkan, Myoshin-ji Temple

Map Of Myoshin-ji Temple Grounds

Hojo-ike Pond (Front garden), Myoshin-ji Temple

Temple Bell, Myoshin-ji Temple

Monks, Myoshin-ji Temple

Path between the Subtemples, Myoshin-ji Temple
This post can contain affiliate links, which means that we may receive a small commission if you make a purchase using these links.
Facts & Figures
The Myoshin-ji Temple is easy enough to spot. It is a massive complex of Zen temple buildings and sub-temples located in the North West region of Kyoto. Many of them have been designated as a historic site or a place of scenic beauty by the Japanese government.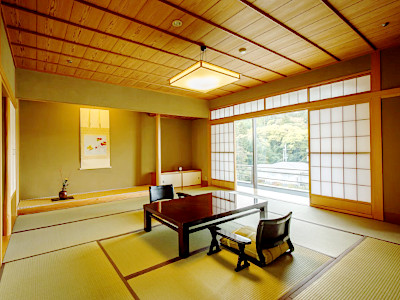  Explore Ryokans in Kyoto >
Ryokans are the perfect way to discover old Japanese culture and traditions. Myoshin-ji is the head temple of the Rinzai sect Myoshin-ji School of Zen Buddhism. There are appr. 6000 Rinzai sect temples in Japan and appr. 3500 of them belong to the Myoshin-ji school. It is also the largest Zen temple in the country. My must-see recommendations for you are Butsu-den Hall (important cultural property), San-mon Gate (important cultural property), Ohojo building and Hatto Hall. Guided tours are available for 500yen. Interesting to know that the famous Ryoanji Temple is a subtemple of Myoshin-ji.
Myoshin-ji Temple Grounds:

Open:

- the whole year, 24hrs

Admission Fee

- free, but some subtemples will charge a fee
Taizoin Subtemple:

Opening Hours:

- 09:00 am to 5:00 pm

Closed:

- never, open the whole year

Admission Fee

- 500 yen (Adults)
Daishinin Subtemple:

Opening Hours:

- 09:00 am to 5:00 pm

Admission Fee

- 300 yen (Adults)
Keishunin Subtemple:

Opening Hours:

- 09:00 am to 5:00 pm (March - October)

Opening Hours:

- 09:00 am to 4:30 pm (November - February)

Admission Fee

- 400 yen (Adults)
My tips for local activities
Explore the best parts of my favourite city Kyoto with a local guide. The personalized tour can take between 2 - 8 hours. Check out this page > for more details.
History
The temple was founded in 1337. The temple served as the headquarters for the Myoshin-ji school of the Rinzai sect and it consisted of over 40 sub-temples and gardens. The temple was constructed on land belonging to the Emperor Hanazono (1297 - 1348). Most of the original buildings were destroyed during the Onin war that ended in 1477 so most of what is there today dates from the 15th to 17th century.
Location
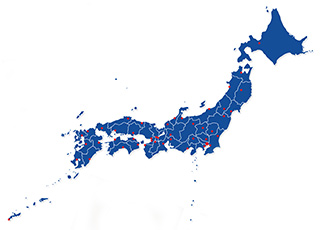 Myoshin-ji Temple is located in the northern part of Kyoto near the famous Ryoanji Temple, a UNESCO World Heritage Site.
Address: 64 Hanazono Myoshinji-cho, Ukyo-ku, 616-8035 Kyoto
How to get to Myoshin-ji?
 10min from Kyoto Station to JR Hanazano Station served by JR Sagano Line and
 10min from JR Hanazano Station to Myoshin-ji
Sightseeing spots at the temple grounds
Top:
San-mon Gate - This important cultural property was built in 1599 during the late Azuchi–Momoyama era (1568 – 1600).
Ohojo building - In the old days the head priest lived here.
Hatto Hall (Lecture Hall) - You will find there on the ceiling a huge painting of a dragon. On display is also one of the oldest bells (year 698) in Japan.
Butsu-den hall - This important cultural property was built in 1583 during the Azuchi–Momoyama era (1568 – 1600).
Taizoin Subtemple - It was constructed during the mid-1960s in the Showa era that lasted from 1926 to 1989. The Taizoin Temple holds a highly valued painting that was created in the 1400s that features a Buddhist man attempting to catch fish with a gourd.
Daishinin Temple - It is the smallest of all the sub-temples, but it has a beautiful rock garden, several temple rooms and a garden full of peonies outside.
Keishunin Temple - The temple has several gardens that can be enjoyed by visitors and a pleasant tea room that allows visitors to take a break as they enjoy the surrounding scenery.
Shunko-in Subtemple - My tip: If you are looking to join in on the meditation sessions that take place during the morning hours, you can also arrive early to get a glimpse of this subtemple. Read more >
Festival & Events in Kyoto
(dates can change without notice)
April
Miyako Odori (1st - 31th)
The traditional annual spring dance of the Kyoto district Gion Kobu performed by Geiko and Maiko is a must-see on your Kyoto visit. Don't miss the most popular dances the Miyako Odori "Cherry Blossom Dances" or "Dances of the Old Capital" at the Gion Kobu Kaburenjo Theater (located close to Gion Corner).
May
Aoi Matsuri (15th)
The highlight of this festival is a large parade from Imperial Palace through Shimogamo Shrine to the Kamo Shrines. More than 500 people wearing aristocratic costumes from the Heian Period (794 - 1185). The Aoi Matsuri belongs with the Gion Matsuri and Jidai Matsuri to the three most famous festivals in Kyoto.
July
Gion Matsuri (whole month)
The month July is full of different events like the Yoiyama - Kyoto's Magical Night (locals in kimonos look at the giant Gion floats the day before the parade) or the famous Yamaboko Junko (float procession on the 17th of July).
October
Jidai Matsuri ("Festival of Ages") (22nd)
People celebrate with a large parade between Imperial Palace to Heian Shrine the anniversary of the foundation of Kyoto. App. 2000 participants wearing historical costumes from different time periods. Enjoy this great festival which last around 2 hours.
My 100 Best Moments in Japan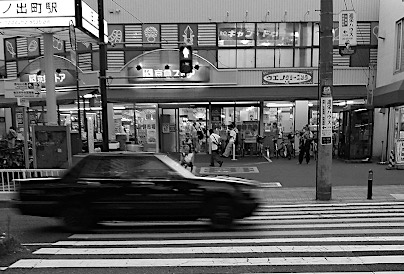 I have visited Japan nearly every year since 2004. This is my collection of the 100 best moments in my favourite country. Enjoy the pictures and I hope you will start your own journey soon.
Find out more >
Books about Japan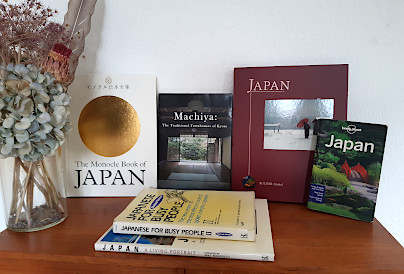 Reading books is a great source of inspiration for me. Check out my recommended list of books about the fascinating country Japan.
My Book recommendations >
Travelers who viewed Myoshin-ji Temple viewed also: