Koshoji Temple (Kyoto)

Show map

Show gallery
Please activate Javascript.

Domo arigato.
Goei-do Hall Koshoji Temple In Kyoto

Amida-do Hall Koshoji Temple In Kyoto

Street View Koshoji Temple In Kyoto

Sanmon Gate Koshoji Temple In Kyoto

Sanmon Gate Koshoji Temple In Kyoto

Koshoji Temple In Kyoto

Koshoji Info Board Temple In Kyoto
Facts & Figures
Koshoji Temple is the head temple of the Kosho sect of Jodo Shin Buddhism, a school of Pure Land Buddhism. The well-known Buddhist monk Shinran was the founder of the temple. The word Kosho describes the achievements of Prince Shotoku (574 – 622), who spread Buddhism throughout Japan. The two main halls Goei-do (Founder´s hall, Shinran) and Amida-do (enshrines Amida Nyorai) are my must-see recommendation for you.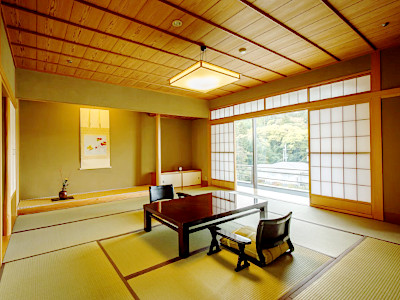 Explore Ryokans in Kyoto
Ryokans are the perfect way to discover old Japanese culture and traditions.
Koshoji Temple:

Opening Hours

- 5:00 am to 5:00 pm

Closed

- never, open the whole year

Admission Fee

- free
History
In 1876 the 27th head priest, Honjaku Shonin, declared Koshoji Temple as the head temple of the Kosho sect. Most of the current buildings were reconstructed after a huge fire in 1902. It took 10 years to rebuilt the whole place under the guidance of the 28th head priest, Honjo Shonin.
Location
Show map
Koshoji Temple is located south of the UNESCO World Heritage Site Nishi-Honganji.
Address: 70 Hanazono-cho, Horikawa-dori, Shichijo-agaru, Shimogyo-ku, 600-8261 Kyoto
How to get to Koshoji Temple?
 5min walk from Kyoto Station
Sightseeing spots
Top:
Goeido (Founder's Hall) - The hall has an impressive height of 28 m and was built in 1912.
Amidado (Hall of Amida Buddha) - Amidado was built in the beginning of the 20th century. The hall is a bit smaller than Goeido and enshrines Amida Nyorai (Amitabha Tathagata) as its focal image.
Kyozo - Built in 1848 and the oldest structure at the temple grounds.
Festival & Events in Kyoto
(dates can change without notice)
April
Miyako Odori (1st - 31th)
The traditional annual spring dance of the Kyoto district Gion Kobu performed by Geiko and Maiko is a must-see on your Kyoto visit. Don't miss the most popular dances the Miyako Odori "Cherry Blossom Dances" or "Dances of the Old Capital" at the Gion Kobu Kaburenjo Theater (located close to Gion Corner).
May
Aoi Matsuri (15th)
The highlight of this festival is a large parade from Imperial Palace through Shimogamo Shrine to the Kamo Shrines. More than 500 people wearing aristocratic costumes from the Heian Period (794 - 1185). The Aoi Matsuri belongs with the Gion Matsuri and Jidai Matsuri to the three most famous festivals in Kyoto.
July
Gion Matsuri (whole month)
The month July is full of different events like the Yoiyama - Kyoto's Magical Night (locals in kimonos look at the giant Gion floats the day before the parade) or the famous Yamaboko Junko (float procession on the 17th of July).
October
Jidai Matsuri ("Festival of Ages") (22nd)
People celebrate with a large parade between Imperial Palace to Heian Shrine the anniversary of the foundation of Kyoto. App. 2000 participants wearing historical costumes from different time periods. Enjoy this great festival which last around 2 hours.
Travelers who viewed Koshoji Temple viewed also:
Search Hotels in Kyoto