Kodai-ji Temple (Kyoto)

Show map

Show gallery
Please activate Javascript.

Domo arigato.
Kodaiji Temple Higashiyama District Kyoto

Kodaiji Temple Higashiyama District Kyoto

Kodaiji Temple Higashiyama District Kyoto

Kodaiji Temple Higashiyama District Kyoto

Chashitsu Tea Room At The Kodaiji Temple Higashiyama District Kyoto

Tsukiyama Garden Within Kodaiji Temple In Kyoto

Tsukiyama Garden Within Kodaiji Temple In Kyoto

Kodaiji Temple Higashiyama District Kyoto

Otamaya Hall Kodaiji Temple In Kyoto

Bamboo Grove Kodaiji Temple In Kyoto

Ryozen Kannon Near Kodaiji Temple In Kyoto
Facts & Figures
Kodai-ji is one of the greatest Zen temple in Kyoto. The temple officially known as Kodaiji-jushozenji belongs to the Rinzai buddhist sect. The place is famous for its gardens. The gardens are designated by the Japanese Government as a historic site and place of scenic beauty.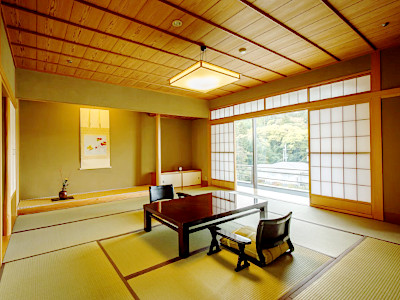 Explore Ryokans in Kyoto
Ryokans are the perfect way to discover old Japanese culture and traditions. Architect and landscape designer Kobori Enshu (1579-1647) created several of the formal gardens. Many buildings and objects of the temple are important cultural properties of Japan like the Kaisan-do Hall (Founder's Hall), Kasa-tei (Teahouse), Shigure-tei (Teahouse), Otama-ya (Sanctuary), Omotetmon (Gate to Sanctuary) and Kangetsudai (Moon Viewing Pavilion).
Kodaiji Temple:

Opening Hours

- 9:00 am to 5:30 pm (last entry at 5:00 pm)

Admission Fee

- 600 yen (Adults), 250 yen (Students), free (Children)
Entokuin Temple:

Opening Hours

- 10:00 am to 5:30 pm (last entry at 5:00 pm)

Admission Fee

- 500 yen (Adults)
Kodai-ji Sho Museum:

Opening Hours

- 9:30 am to 6:00 pm (until 10:00 pm during Kodai-ji Temple's nighttime opening)

Admission Fee

- 300 yen (Adults)
3 places combi ticket (Kodai-ji Temple, Kodai-ji Sho Museum and Entokuin Temple):

Admission Fee

- 900 yen (Adults)
History
In 1606 Kodai-ji temple was founded in memory of general Toyotomi Hideyoshi (1537-1598) by his wife Kita-no-Mandokoro (1548-1624) also known as Nene. The shogun Tokugawa Ieyasu (1542-1616) donated the money to built this beautiful temple.
Location
Show map
Kodaiji is located in the Higashiyama District north east of Yasaka Hokanji Temple in Kyoto.
Address: 526 Shimogawara-cho, Higashiyama-ku, Kyoto
How to get to Kodai-ji?
 15min from Kyoto Station to Higashiyama Yasui stop by bus number 100 or 206 and
 10min walk from Higashiyama Yasui bus stop to Kodaiji temple
Sightseeing spots
Top:
Main Hall (Hojo) - was rebuilt after an fire in 1912
Entokuin Temple - a small subtemple of Kodaiji including two Zen gardens
Kaisan-do Hall (Founder's Hall) - is dedicated to the founder of the temple priest Sanko Joeki, his statue is located within the building
Zen Gardens - enjoy the different styles like a rock garden or tsukiyama style garden (featuring a pond)
Iho-an Tea Ceremony House (The Cottage of Lingering Fragrances) - is known for its large circular window
Otamaya - small mausoleum dedicated to Hideyoshi and Nene
Garyo-ro (Lying dragon corridor) - connects Kaisan-do Hall and Otamaya
Bamboo Grove - this place creates a beautiful atmosphere and is perfect for a rest
Festival & Events
(dates can change without notice)
April
Miyako Odori (1st - 31th)
The traditional annual spring dance of the Kyoto district Gion Kobu performed by Geiko and Maiko is a must-see on your Kyoto visit. Don't miss the most popular dances the Miyako Odori "Cherry Blossom Dances" or "Dances of the Old Capital" at the Gion Kobu Kaburenjo Theater (located close to Gion Corner).
May
Aoi Matsuri (15th)
The highlight of this festival is a large parade from Imperial Palace through Shimogamo Shrine to the Kamo Shrines. More than 500 people wearing aristocratic costumes from the Heian Period (794 - 1185). The Aoi Matsuri belongs with the Gion Matsuri and Jidai Matsuri to the three most famous festivals in Kyoto.
July
Gion Matsuri (whole month)
The month July is full of different events like the Yoiyama - Kyoto's Magical Night (locals in kimonos look at the giant Gion floats the day before the parade) or the famous Yamaboko Junko (float procession on the 17th of July).
October
Jidai Matsuri ("Festival of Ages") (22nd)
People celebrate with a large parade between Imperial Palace to Heian Shrine the anniversary of the foundation of Kyoto. App. 2000 participants wearing historical costumes from different time periods. Enjoy this great festival which last around 2 hours.
Travelers who viewed Kodai-ji viewed also:
Search Hotels in Kyoto