Kumano Nyakuoji-jinja (Kyoto)

Show map

Show gallery
Please activate Javascript.

Domo arigato.
Honden Kumano Nyakuoji-jinja In Kyoto

Kumano Nyakuoji-jinja In Kyoto

Kumano Nyakuoji-jinja Lanterns Chouchin In Kyoto

Kumano Nyakuoji-jinja Lanterns Chouchin In Kyoto

Kumano Nyakuoji-jinja Torii In Kyoto

Kumano Nyakuoji-jinja Bridge In Kyoto
Facts & Figures
The Shinto shrine Kumano Nyakuoji-jinja marks the end point of the famous Philosopher's Walk in Kyoto. Kumano Nyakuoji-jinja belongs to the group of three Kumano shrines in the city.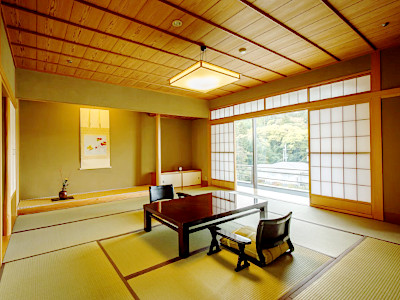 Explore Ryokans in Kyoto
Ryokans are the perfect way to discover old Japanese culture and traditions. The other two are Imakumano-jinja and Kumano-jinja. Yatagarasu, a three-legged crow, is the messenger of the temple. The whole area is very popular during the cherry blossom season and autumn. The Nyakuoji Mountain behind the shrine looks amazing with all the coloured leaves in October and November. On top of the mountain is also the place where the founder of the Doshisha University, Niijima Jo, lies buried with his wife Yae.
History
In 1160 Kumano Nyakuoji Shrine was founded by retired Emperor Go-Shirakawa (1127 – 1192). The Shinto shrine was established as a guardian shrine for Nyakuoji Temple. It was supported by the Muromachi shogunate and warrior families. Major reconstruction work was done in the end of the last century.
Location
Show map
Kumano Nyakuoji Shrine is located at the southern end of the Philosopher's Walk within the Sakyo Ward near Eikan-do Temple.
Address: 2 Nyakuojicho, Sakyo Ward, Kyoto, Kyoto Prefecture 606-8444
How to get to Kumano Nyakuoji-jinja?
 35min from Kyoto St. to Nanzenji-Eikando-michi bus stop by Kyoto City Bus Nr. 5 and
 5min walk from the bus stop to Kumano Nyakuoji-jinja
Sightseeing spots
Top:
Honden - The main hall of the small shrine complex has an interesting architecture style.
Festival & Events
(dates can change without notice)
April
Cherry Blossom (Hanami) (beginning of April)
Take your time to walk along hundreds of cherry trees at the Philosopher's Walk.
Miyako Odori (1st - 31th)
The traditional annual spring dance of the Kyoto district Gion Kobu performed by Geiko and Maiko is a must-see on your Kyoto visit. Don't miss the most popular dances the Miyako Odori "Cherry Blossom Dances" or "Dances of the Old Capital" at the Gion Kobu Kaburenjo Theater (located close to Gion Corner).
May
Aoi Matsuri (15th)
The highlight of this festival is a large parade from Imperial Palace through Shimogamo Shrine to the Kamo Shrines. More than 500 people wearing aristocratic costumes from the Heian Period (794 - 1185). The Aoi Matsuri belongs with the Gion Matsuri and Jidai Matsuri to the three most famous festivals in Kyoto.
July
Gion Matsuri (whole month)
The month July is full of different events like the Yoiyama - Kyoto's Magical Night (locals in kimonos look at the giant Gion floats the day before the parade) or the famous Yamaboko Junko (float procession on the 17th of July).
October
Jidai Matsuri ("Festival of Ages") (22nd)
People celebrate with a large parade between Imperial Palace to Heian Shrine the anniversary of the foundation of Kyoto. App. 2000 participants wearing historical costumes from different time periods. Enjoy this great festival which last around 2 hours.
Travelers who viewed Kumano Nyakuoji-jinja viewed also:
Search Hotels in Kyoto