Pontocho Alley in Kyoto
Please activate Javascript.

Domo arigato.
Pontocho in Kyoto

Pontocho in Kyoto

Pontocho in Kyoto

Pontocho in Kyoto

Shabu shabu Restaurant Pontocho in Kyoto

Pontocho Restaurants along Kamogawa River in Kyoto

Chidori Bird Symbol of Pontocho in Kyoto
Facts & Figures
The Poncho Alley near the Kamogawa River is one of the finest places for dining in Kyoto. The Edo time atmosphere along this narrow alley is just outstandingly beautiful with many old traditional wooden buildings, tea houses, shops, bars and restaurants. Come here in the evening hours and you will have a chance to see Geisha and Maiko (apprentice geisha) on their way to one of the special and exclusive venues.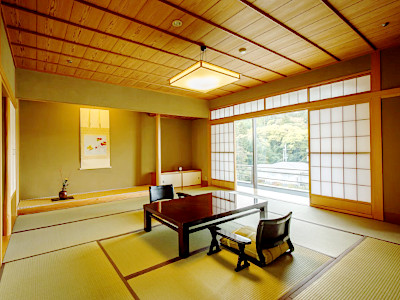  Explore Ryokans in Kyoto >
Ryokans are the perfect way to discover old Japanese culture and traditions. The density of restaurants is really high and you will find something in every price range from Yakitori, Shabu-shabu, Tempura, Sushi, traditional Kyoto cuisine and much much more. Here is my tip: Many restaurants facing on their backside the Kamogawa River and offer dining platforms under the open sky. These temporary structures called kawayuka are available only from May to September. Just close your eyes for a moment and imagine the best food in town with a magnificent river view and a warm summer breeze in your face within the most beautiful city in Japan. It can not get any better. To make sure to get a spot in one of those high in demand places try to make a reservation upfront especially on the weekends.
Business hours for bars and restaurants:

Opening Hours

- 5:00 pm to 11:00 pm
My tips for local activities
Explore the best parts of my favourite city Kyoto with a local guide. The personalized tour can take between 2 - 8 hours. Check out this page > for more details.
History
Pontocho has a long history of being an entertainment district in Kyoto. It is dating back to 1670. The area is known for the Geisha (also called Geiko and Maiko in Kyoto) culture and community.
Location
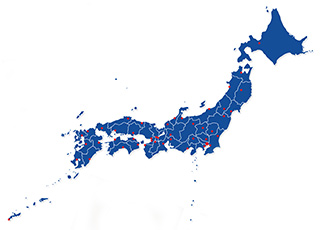 The Pontocho Alley is running parallel to the Kamogawa River in downtown Kyoto and can be found between the Shijo-dori and Sanjo-dori.
Address: Pontocho-dori, Nakagyo-ku, Kyoto-shi, Kyoto 604-8017
How to get to Pontocho Alley?
 10min from Kyoto Station to Shijo Kawaramachi stop by bus 4, 5, 17, or 205 and
 3min walk from the bus stop to Pontocho Alley
Sightseeing spots within Ponto-cho district
Top:
Kaburenjo Theatre - Geisha and Maiko come here to practice their art form. The performance theatre was founded in 1873. The most important event there is the annual Miyako Odori in April, where Geisha perform their traditional dances.
Best restaurants - If your are looking for an amazing dining experience check out these restaurant highlights:
Kushiemon - It is a restaurant with deep fried seasonal food (kushikatu). One of the highlights is its amazing location overlooking the Kamogawa River.
Address: 227 Nabeya-cho, Nakagyo-ku Shiko Kaikan 2F, Kyoto 604-8015
Hiro - The Yakiniku Restaurant offers the best Wagyu beef.
Address: 76 Zaimokucho, Nakagyo-ku, Kyoto-shi, Kyoto 604-8017
Yamatomi - Yamatomi offers authentic Kyoto cuisine with a huge variety of ingredients like vegetables, seafood, shrimp, beef, sausages etc…
Address: 226 Nabeyacho, Nakagyo-ku, Kyoto 604-8015
Yasubee pontocho - It offers Okonomiyaki (Japanese savory pancake dish), which is one of my favourite dishes.
Address: 142 Umenokicho, Pontocho Sanjo Sagaru, Nakagyo-ku, Kyoto 604-8012
Festival & Events in Kyoto
(dates can change without notice)
April
Miyako Odori (1st - 31th)
The traditional annual spring dance of the Kyoto district Gion Kobu performed by Geiko and Maiko is a must-see on your Kyoto visit. Don't miss the most popular dances the Miyako Odori "Cherry Blossom Dances" or "Dances of the Old Capital" at the Gion Kobu Kaburenjo Theater (located close to Gion Corner).
May
Aoi Matsuri (15th)
The highlight of this festival is a large parade from Imperial Palace through Shimogamo Shrine to the Kamo Shrines. More than 500 people wearing aristocratic costumes from the Heian Period (794 - 1185). The Aoi Matsuri belongs with the Gion Matsuri and Jidai Matsuri to the three most famous festivals in Kyoto.
July
Gion Matsuri (whole month)
The month July is full of different events like the Yoiyama - Kyoto's Magical Night (locals in kimonos look at the giant Gion floats the day before the parade) or the famous Yamaboko Junko (float procession on the 17th of July).
October
Jidai Matsuri ("Festival of Ages") (22nd)
People celebrate with a large parade between Imperial Palace to Heian Shrine the anniversary of the foundation of Kyoto. App. 2000 participants wearing historical costumes from different time periods. Enjoy this great festival which last around 2 hours.
My 100 Best Moments in Japan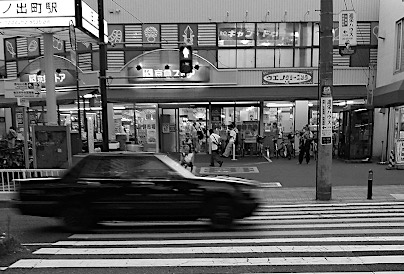 I have visited Japan nearly every year since 2004. This is my collection of the 100 best moments in my favourite country. Enjoy the pictures and I hope you will start your own journey soon.
Find out more >
Books about Japan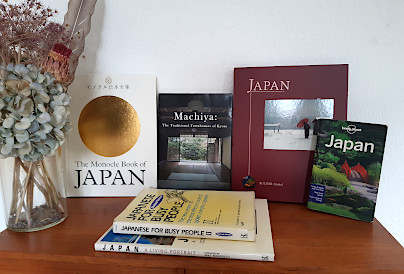 Reading books is a great source of inspiration for me. Check out my recommended list of books about the fascinating country Japan.
My Book recommendations >
Travelers who viewed Pontocho Alley viewed also: