Insho Domoto Museum in Kyoto
Please activate Javascript.

Domo arigato.
Insho Domoto Museum in Kyoto
Facts & Figures
The Japanese-style painter Insho Domoto (1891 – 1975) founded this museum in his hometown Kyoto to display his work, which includes more than 2600 art pieces (paintings, ceramics, sculptures and much more). His paintings on fusuma sliding doors can also being seen at Toji Temple and other places in the Kansai region. The unique exterior and interior design of the Insho-Domoto Museum of Fine Arts building was all created by this artist. For example the facade of the museum resembles a ship. For his architecture style he got inspired by a trip to Europe in 1952, where he saw many palaces and residences. Insho Domoto was an active member of the Kyoto Gadan school, which created a huge number of modern Japanese paintings of the city Kyoto.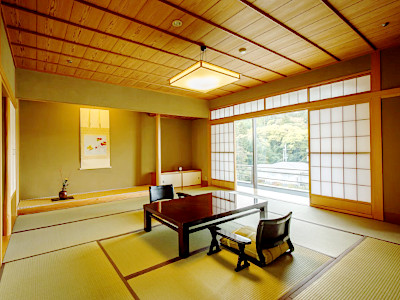  Explore Ryokans in Kyoto >
Ryokans are the perfect way to discover old Japanese culture and traditions.
Insho Domoto Museum:

Opening Hours

- 9:30 am to 5:00 pm (last entry 4:30 pm)

Closed

- on Mondays and during the winter break (28th of Dec - 4th of Jan)

Admission Fee

- 500 yen (Adults), 400 yen (University and High School Students), 200 yen (Junior High School Students or younger)
My tips for local activities
Explore the best parts of my favourite city Kyoto with a local guide. The personalized tour can take between 2 - 8 hours. Check out this page > for more details.
History
The Insho-Domoto Museum of Fine Arts in Kyoto opened its doors for the public in 1966. In 1992 the building and his work was donated to the Kyoto Prefecture.
Location
Show map
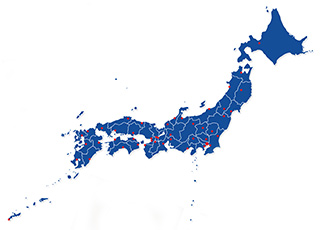 Insho-Domoto Museum is located between the Kinkaku-ji Temple (Golden Pavilion) and Ryoanji Zen Temple in Kyoto.
Address: 26-3 Hirano Kamiyanagi-cho, Kita-ku, Kyoto-shi, 603-8355 Kyoto
How to get to Insho-Domoto Museum?
 30min from Kyoto Station to Ritsumeikan Daigaku-mae stop by Kyoto City Bus 50
Sightseeing spots
Top:
Work of Domoto - As an artist he never followed one style. He expressed himself in many ways. One of his art highlights are - Landscape of Fukakusa (from 1919), Aru-Kazoku (from 1949) and Gedatsu-kishi (from 1967).
Festival & Events in Kyoto
(dates can change without notice)
April
Miyako Odori (1st - 31th)
The traditional annual spring dance of the Kyoto district Gion Kobu performed by Geiko and Maiko is a must-see on your Kyoto visit. Don't miss the most popular dances the Miyako Odori "Cherry Blossom Dances" or "Dances of the Old Capital" at the Gion Kobu Kaburenjo Theater (located close to Gion Corner).
May
Aoi Matsuri (15th)
The highlight of this festival is a large parade from Imperial Palace through Shimogamo Shrine to the Kamo Shrines. More than 500 people wearing aristocratic costumes from the Heian Period (794 - 1185). The Aoi Matsuri belongs with the Gion Matsuri and Jidai Matsuri to the three most famous festivals in Kyoto.
July
Gion Matsuri (whole month)
The month July is full of different events like the Yoiyama - Kyoto's Magical Night (locals in kimonos look at the giant Gion floats the day before the parade) or the famous Yamaboko Junko (float procession on the 17th of July).
October
Jidai Matsuri ("Festival of Ages") (22nd)
People celebrate with a large parade between Imperial Palace to Heian Shrine the anniversary of the foundation of Kyoto. App. 2000 participants wearing historical costumes from different time periods. Enjoy this great festival which last around 2 hours.
My 100 Best Moments in Japan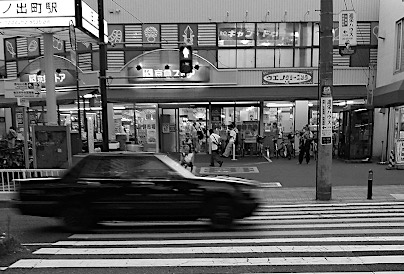 I have visited Japan nearly every year since 2004. This is my collection of the 100 best moments in my favourite country. Enjoy the pictures and I hope you will start your own journey soon.
Find out more >
Books about Japan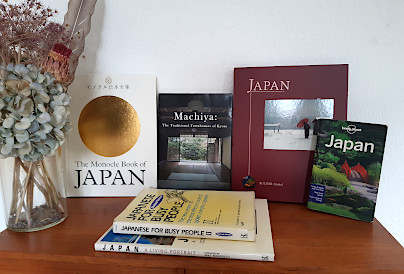 Reading books is a great source of inspiration for me. Check out my recommended list of books about the fascinating country Japan.
My Book recommendations >
Travelers who viewed Insho Domoto Museum viewed also: