Umeda Sky Building (Osaka)

Show map

Show gallery
Please activate Javascript.

Domo arigato.
Umeda Sky Building In Kita-ku, Osaka

Umeda Sky Building In Kita-ku, Osaka

Umeda Sky Building In Kita-ku, Osaka

Osaka Umeda Sky Building Escalator

Umeda Sky Building In Kita-ku, Osaka

Umeda Sky Building In Kita-ku, Osaka

Umeda Sky Building In Kita-ku, Osaka

Umeda Sky Building Floating Garden Observatory In Kita-ku, Osaka

Osaka Umeda Sky Building Fence Of Vows At The Lumi Deck

Downtown Osaka View From The Umeda Sky Building

Downtown Osaka View From The Umeda Sky Building

Osaka View From The Umeda Sky Building

Osaka View From The Umeda Sky Building Observatory

Downtown Osaka View From The Umeda Sky Building

Gate Tower Building In Fukushima-ku, Osaka

Park Infront Of The Umeda Sky Building In Kita-ku, Osaka

Park Infront Of The Umeda Sky Building In Kita-ku, Osaka

Park Infront Of The Umeda Sky Building In Kita-ku, Osaka
Facts & Figures
The Umeda Sky Building in Osaka is famous for its unique architecture. The 173m high landmark building consists of two towers (40 floors) connected by the observation platform at their top floors. The observatory ("Floating Garden Observatory") offers you an amazing 360-degree view over Osaka city and the Awaji Island.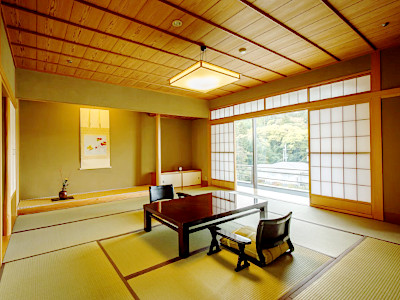 Explore Ryokans in Osaka
Ryokans are the perfect way to discover old Japanese culture and traditions.
Umeda Sky Building:

Opening Hours

- 10:00 am to 10:30 pm (last entry 10:00 pm)

Admission Fee

- 700 yen
History
The Umeda Sky Building, part of the Shin Umeda City project, was designed by Hiroshi Hara. The construction was completed in 1993 by Takenaka Corporation.
Location
Show map
Umeda Sky Building is located in the Umeda district within Kita-ku (ward) in Osaka.
How to get to Umeda Sky Building?
 10min from JR Osaka Station, Hankyu Umeda Station or Subway Umeda station
Sightseeing spots
Top:
Floating Garden Observatory - enjoy the spectecular view, my must-see recommendation for you
Lumi Deck - place for lovers at the Floating Garden Observatory
Takimi-Koji Gourmet Street - located at the basement of the building, the place offers different restaurants in an Osaka old days setting (Showa era)
Chushizenno-mori (natural forests) - little oasis with waterfalls and greenery
Hanano (field of flowers) - beautiful garden
Festival & Events
(dates can change without notice)
July
Tenjin Matsuri Festival (24th till 25th)
Osaka's greatest traditional festival (over 1000 years old) and ranked as one of the top 3 festivals in Japan. Enjoy spectecular processions on land and in the water, great fireworks and a unique atmosphere created by the traditional costumes and music. My must-see recommendation for you.
November/December
Osaka German Christmas Market (18th Nov. till 25th Dec.)
Enjoy this unique event at the Umeda Sky Building. It offers specialties from Germany and you have to try out one Glühwein:)
Travelers who viewed Umeda Sky Building viewed also:
Search Hotels in Osaka