Tenno-ji Park in Osaka
Please activate Javascript.

Domo arigato.
Tenno-ji Park (Koen) Osaka

Gate At The Keitakuen Garden In The Tenno-ji Park Osaka

Tenno-ji Park Osaka

Keitakuen Garden Pond In The Tenno-ji Park Osaka

Keitakuen Garden Pond In The Tenno-ji Park Osaka

View From The Azumaya Teahouse In The Keitakuen Garden

Stone Bridge In The Keitakuen Garden, Tenno-ji Park

Stepping Stones In The Keitakuen Garden, Tenno-ji Park

Keitakuen Garden Tenno-ji Park With The Osaka Municipal Museum of Art

Keitakuen Garden Bridge In The Tenno-ji Park

Keitakuen Garden Waterfall In The Tenno-ji Park

Keitakuen Garden In The Tenno-ji Park

Keitakuen Garden In The Tenno-ji Park

Statue In The Tenno-ji Park
Facts & Figures
The Tenno-ji Park (Tennoji koen) is with 28.8 hectares the largest park in Osaka. The green lung of the city offers many attractions like the Tennoji Zoo, Keitakuen Garden, Osaka Municipal Museum of Art or the Chausuyama Tomb. It is a great place for the young and old.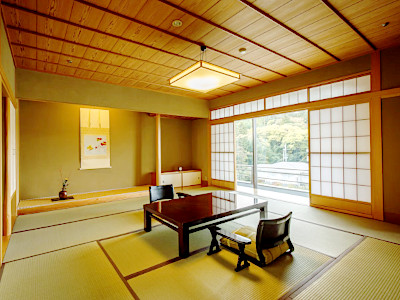 Explore Ryokans in Osaka
Ryokans are the perfect way to discover old Japanese culture and traditions.
Tempozan Park:

Opening Hours

- 9:30 am to 5:00 pm (last admission till 4:30 pm)

Opening Hours

- 9:30 am to 8:00 pm (occasionally in May, July, August and Sep.)

Admission Fee

- 150 yen (adults), 75 yen (Junior high school students and younger)
History
In 1909 the Tenno-ji Park opened for the public. After the Tennoji Exposition in 1987 it was time for an make over. Finally in 1990 the park was refurbished and accessible again.
Location
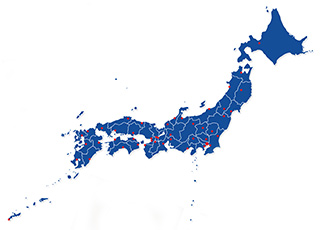 Tenno-ji Park is located within Tennoji-ku (ward) in the center of Osaka.
How to get to Tenno-ji Park?
 10min from Tenno-ji Station served by JR Osaka Loop Line
Sightseeing spots
nearby:
Keitakuen Garden - traditional Japanese garden, opened in 1918
Tenno-ji Zoo - houses over 1500 animals, the only kiwi bird in Japan is living there
Osaka Municipal Museum of Art - established in 1936, on display are appr. 8500 works of Chinese and Japanese Art
Chausuyama Tomb - many specialist still discussing if this hill (yama) in the park forms a tomb or not
Festival & Events
(dates can change without notice)
July
Tenjin Matsuri Festival (24th till 25th)
Osaka's greatest traditional festival (over 1000 years old) and ranked as one of the top 3 festivals in Japan. Enjoy spectecular processions on land and in the water, great fireworks and a unique atmosphere created by the traditional costumes and music. My must-see recommendation for you.
September
Osaka Thai Festival (5th till 6th)
The Thai Festival in the Tennoji Park gives you the great opportunity to explore another culture. Enjoy the traditional Thai beer, good food, music and Muay Thai events.
Where to stay in Osaka?
My 100 Best Moments in Japan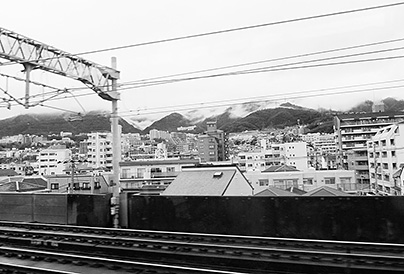 I am visiting Japan nearly every year since 2004. This is my collection of the 100 best moments in my favourite country. Enjoy the pictures and I hope you will start your own journey soon.
read more
Travelers who viewed Tenno-ji Park viewed also: