Tsuyunoten Shrine - Ohatsu Tenjin in Osaka
Please activate Javascript.

Domo arigato.
Tsuyunoten Shrine / Ohatsu Tenjin Shrine

Tsuyunoten Shrine / Ohatsu Tenjin Shrine

Tsuyunoten Shrine / Ohatsu Tenjin Shrine

Tsuyunoten Shrine / Ohatsu Tenjin Shrine
Facts & Figures
The Tsuyunoten Shrine (Ohatsu Tenjin Shrine) is called the protector or guardian shrine of the Umeda and Sonezaki areas. People believe that the shrine has the power to give success in business, traffic safety and to make relationships stronger.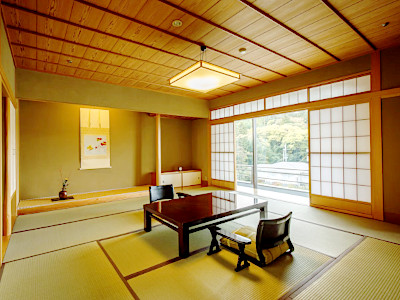 Explore Ryokans in Osaka
Ryokans are the perfect way to discover old Japanese culture and traditions. In 1703 a double suicide happened at the site. Two young people, Tokubei an assistant manager and Ohatsua a courtesan, were deeply in love, a secret love, but the forces were against them. Monzaemon Chikamatsu wrote a famous Bunraku puppet play (Sonezaki Shinju) about this tragedy. The Tsuyunoten Shrine became a symbol of everlasting love.
Tsuyunoten Shrine:

Opening Hours

- 6:00 am to 12:00 pm (midnight)

Admission Fee

- free
History
The history of Tsuyunoten Shrine (also known as Tsuyu-no-Tenjinja or Ohatsu Tenjin) is dating back to the 6th century. It was the time when Emperor Kimmei (509 - 571) ruled the country. The shrine was built on a small island close to Osaka Bay. The name of the shrine was taken from a poem by Suguwara no Michizane (845 - 903) a famous poet, scholar and politician of the Heian Period (794 - 1185). In 901 poet Michizane stopped at the shrine, after he was forced to leave the Imperial court in Kyoto, and wrote the is poem which started with dew falls... Dew means Tsuyu in Japanese. The shrine was reconstructed after a huge fire in 1622. After the first Osaka train station was built in 1894 and the Hankyu Umeda station in 1907 the shrine became the guardian of these areas (Sonezaki and Umeda). In June of 1945 the shrine was completely destroyed. The reconstruction process took till 1957. The shrine office (Sanshuden), the front and torii gates were built in 1993.
Location
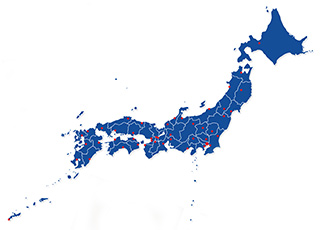 Ohatsu Tenjin Shrine is located in Sonezaki Kita-ku (ward) near Osaka Station.
Address: 2-5-4 Sonezaki, Kita-ku, Osaka-shi
How to get to Tsuyunoten Shrine?
 5min from Higashi-Umeda Station served by Tanimachi Subway Line
 10min from Osaka Station
Sightseeing spots
nearby:
Ohatsu-Tenjindori Shotengai - The Tsuyunoten Shrine is located at the end of this covered shopping arcade. You will find there many shops, restaurants and bars.
Festival & Events
(dates can change without notice)
July
Tenjin Matsuri Festival (24th till 25th)
Osaka's greatest traditional festival (over 1000 years old) and ranked as one of the top 3 festivals in Japan. Enjoy spectecular processions on land and in the water, great fireworks and a unique atmosphere created by the traditional costumes and music. My must-see recommendation for you.
Every Month
Flea Market
Every 1st and 3rd Friday of each month there is a flea market held at the Tsuyunoten Shrine (Ohatsu Tenjin)
Where to stay in Osaka?
My 100 Best Moments in Japan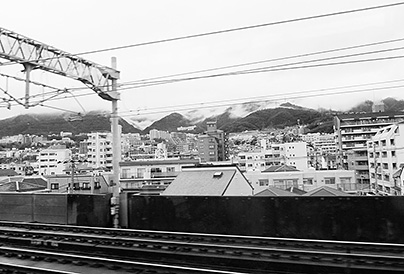 I am visiting Japan nearly every year since 2004. This is my collection of the 100 best moments in my favourite country. Enjoy the pictures and I hope you will start your own journey soon.
read more
Travelers who viewed Tsuyunoten Shrine viewed also: