Tsuyunoten Shrine (Osaka)

Show map

Show gallery
Please activate Javascript.

Domo arigato.
Tsuyunoten Shrine / Ohatsu Tenjin Shrine

Tsuyunoten Shrine / Ohatsu Tenjin Shrine

Tsuyunoten Shrine / Ohatsu Tenjin Shrine

Tsuyunoten Shrine / Ohatsu Tenjin Shrine
Facts & Figures
The Tsuyunoten Shrine or Ohatsu Tenjin Shrine is called the protector of the Umeda and Sonezaki areas. People believe that the shrine has the power to give success in business, traffic safety and makes relationships stronger.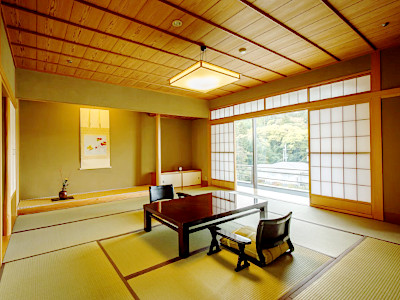 Explore Ryokans in Osaka
Ryokans are the perfect way to discover old Japanese culture and traditions. In 1703 a double suicide happened at the site. Monzaemon Chikamatsu wrote a famous Bunraku puppet play (Sonezaki Shinju) about this tragedy.
Tsuyunoten Shrine:

Opening Hours

- 6:00 am to 12:00 pm

Admission Fee

- free
History
The Tsuyunoten Shrine history is dating back to the 6th century.
Location
Show map
Ohatsu Tenjin Shrine is located in Sonezaki Kita-ku (ward) near Osaka Station.
Address: 2-5-4 Sonezaki, Kita-ku, Osaka-shi
How to get to Tsuyunoten Shrine?
 5min from Higashi-Umeda Station served by Tanimachi Subway Line
 10min from Osaka Station
Sightseeing spots
Top:
narrow alley near Tsuyunoten Shrine - enjoy tiny old buildings full with cafes and bars
Festival & Events
(dates can change without notice)
July
Tenjin Matsuri Festival (24th till 25th)
Osaka's greatest traditional festival (over 1000 years old) and ranked as one of the top 3 festivals in Japan. Enjoy spectecular processions on land and in the water, great fireworks and a unique atmosphere created by the traditional costumes and music. My must-see recommendation for you.
Every Month
Flea Market
Every 1st and 3rd Friday of each month there is a flea market held at the Tsuyunoten Shrine (Ohatsu Tenjin)
Travelers who viewed Tsuyunoten Shrine viewed also:
Search Hotels in Osaka