HEP Five Ferris Wheel (Osaka)

Show map

Show gallery
Please activate Javascript.

Domo arigato.
Ferris Wheel Atop HEP Five Shopping Mall

View From The HEP Five Ferris Wheel In Umeda

View From The HEP Five Ferris Wheel, Osaka

View From The HEP Five Ferris Wheel, Osaka

Osaka Station View From The HEP Five Ferris Wheel

Red Whales At The Entrance Of The HEP Five Shopping Mall
Facts & Figures
HEP Five Ferris Wheel built on the roof of the HEP (means "Hankyu Entertainment Park") Five shopping complex is an impressive sight. The diameter of the bright red ferris wheel is 75 metres and the highest point reaches 106 metres above ground.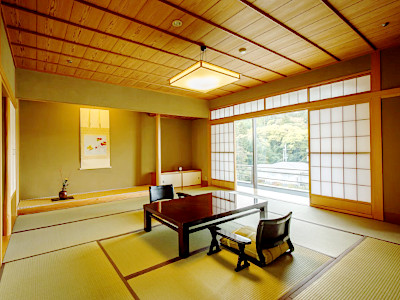 Explore Ryokans in Osaka
Ryokans are the perfect way to discover old Japanese culture and traditions. From the top you have a great view over downtown Osaka (Osaka Station, harbor) till Mt. Ikoma in the far distance. Every gondola is air conditioned, a very valuable fact during the hot and humid summer time.
HEP Five Ferris Wheel:

Opening Hours:

- 11:00 am to 11:00 pm (last entry 10:45 pm)

Admission Fee

- 500 yen (Primary school student & older)
History
The HEP Five shopping complex was built in 1998 and receives yearly appr. 17 million visitors.
Location
Show map
HEP Five Ferris Wheel is located in Kita-ku (ward) near Osaka Station.
How to get to HEP Five Ferris Wheel?
 5min from Osaka Station
Sightseeing spots
Top:
replica of 2 whales - watch out for these huge sculptures hanging from the ceiling, designed by Tatsuya Ishii
shop till you drop - the HEP Five complex contains more than 100 shops, restaurants and entertainment facilities
Festival & Events
(dates can change without notice)
July
Tenjin Matsuri Festival (24th till 25th)
Osaka's greatest traditional festival (over 1000 years old) and ranked as one of the top 3 festivals in Japan. Enjoy spectecular processions on land and in the water, great fireworks and a unique atmosphere created by the traditional costumes and music. My must-see recommendation for you.
Travelers who viewed HEP Five Ferris Wheel viewed also:
Search Hotels in Osaka