Tempozan Ferris Wheel (Osaka)

Show map

Show gallery
Please activate Javascript.

Domo arigato.
Osaka Tempozan Ferris Wheel

Osaka Tempozan Ferris Wheel

Osaka Tempozan Ferris Wheel Entrance

View from Tempozan Ferris Wheel Osaka

View from Tempozan Ferris Wheel Osaka

View From Tempozan Ferris Wheel Osaka With The Minato Ohashi Bridge

View from Tempozan Ferris Wheel Osaka

Cabin Of The Tempozan Ferris Wheel Osaka

View From The Tempozan Ferris Wheel With Kaiyukan Aquarium

Osaka Tempozan Ferris Wheel
Facts & Figures
The Tempozan Ferris Wheel is with a height of 112.5 meters (diameter 100 meters) one of the largest in the world. Attached to the wheel are 68 passenger cars with a total capacity of 480 people.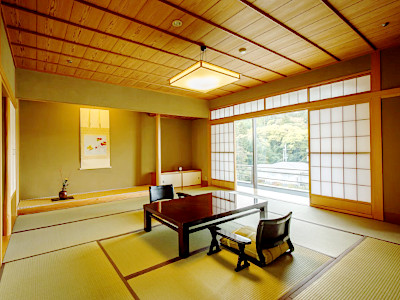 Explore Ryokans in Osaka
Ryokans are the perfect way to discover old Japanese culture and traditions. The 17 minutes ride gives you great views over Osaka, Osaka Bay, Akashi Straits Bridge and Mt. Rokko. The illumination at night is really beautiful and makes this place a very popular dating spot.
Tempozan Ferris Wheel:

Opening Hours

- 10:00 am to 10:00 pm (Ticket sales till 9:30 pm)

Admission Fee

- 700 yen (from age 3)
History
Tempozan Ferris Wheel opened for the public in 1997. It was the tallest in the world from 1997 till 1999.
Location
Show map
Tempozan Ferris Wheel is located within the Tempozan Harbor Village district at the Osaka Bay, Minato-ku (ward) in Osaka.
How to get to Tempozan Ferris Wheel?
 5min from Osakako Subway Station served by Chuo Subway Line
Sightseeing spots
nearby:
KAIYUKAN Aquarium - the KAIYUKAN Aquarium offers 15 tanks full with marine life from the Pacific Rim
Tempozan Marketplace - first food theme park in Japan full with Kansai cuisine
Festival & Events
(dates can change without notice)
July
Tenjin Matsuri Festival (24th till 25th)
Osaka's greatest traditional festival (over 1000 years old) and ranked as one of the top 3 festivals in Japan. Enjoy spectecular processions on land and in the water, great fireworks and a unique atmosphere created by the traditional costumes and music. My must-see recommendation for you.
September
Osaka World Performance Festival (mid Sep)
Great performances are displayed at the Tempozan Marketplace and attracts thousands of visitors every year.
Travelers who viewed Tempozan Ferris Wheel viewed also:
Search Hotels in Osaka