Please activate Javascript.

Domo arigato.
Nara Park

Nara National Museum in Nara Park

Nara Park near Todaiji

Red Deer in Nara Park

Nara Park Red Deer Warning Sign

Deer near Todaiji Temple in Nara

Todaiji Temple within Nara Park
This post can contain affiliate links, which means that we may receive a small commission if you make a purchase using these links.
Facts & Figures
The beautiful Nara Park is located within the city Nara at the foot of Mt. Wakakusa (342m). The park is one of the oldest in the country. It covers an area of 660 hectares and includes famous historical places like the Todaiji Temple, Kasuga Taisha Shrine, Kofukuji, Isuien Garden, Ukimido Gazebo and the Nara National Museum.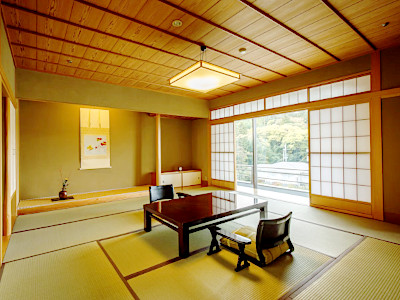  Explore Ryokans in Nara >
Ryokans are the perfect way to discover old Japanese culture and traditions. Nara Park belongs to the list of - Places of Scenic Beauty - in Japan. The over 1200 free-roaming sika deer are one of its biggest attractions and designated as a natural treasure. You are allowed to feed them and special crackers (Shika-senbei) can be bought everywhere you go. You can also find there a lake full of carp and turtles. The park attracts over two million tourists every year.
My tips for local activities
How about exploring the highlights and hidden gems of the fascinating city Nara with a local guide. Check out this page > for more details.
History
Nara Park was founded in 1880 and is one of the oldest in Japan. The tamed sika deer of the park played an important role in the history of the area. According to a local tale, the sika deer from the Nara area became sacred animals due to a visit of one of the four gods of Kasuga Taisha Shrine with the name Takemikazuchi-no-mikoto. He suddenly appeared on Mt. Wakakusa (Mt. Mikasa) riding on the back of a white deer. From that moment on the deer received the sacred status by the Kofukuji and Kasuga Taisha Shrine. It was not allowed to kill a deer and until 1637 there was a death sentence for those who did. In 1957 sika deer were designated a national natural treasure.
Location
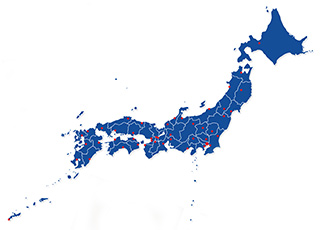 Nara Park is located in the centre of the city Nara at the foot of Mt. Wakakusa, also known as Mount Mikasa.
How to get to Nara Park?
 10min from JR Nara Station served by Yamatoji, Nara, Gakkentoshi, Sakurai Line
 25min from Kintetsu Nara Station served by Nara and Kyoto Line
Sightseeing spots within Nara Park
Top:
Todaiji Temple - The Todai-ji Temple ("Great Eastern Temple") is a UNESCO World Heritage Site and one of the historical most important Buddhist temples in the country. The Daibutsuden (main hall) is the largest wooden building in the world. Read more >
Kasuga Taisha Shrine - It is one of the most famous Shinto Shrines in Japans, a UNESCO World Heritage Site (since 1998) and a designated National Treasure. One outstanding feature are the shrines more than 1000 bronze lanterns known as Mantoro donated by worshippers. Read more >
Kofukuji -The Temple complex belongs to the Seven Great Temples of Nara. In 1998 the Buddhist temple was named a UNESCO World Heritage Site. Its famous Five-Story Pagoda is with 50.1 meters the second highest pagoda in Japan and a symbol of Nara. Read more >
Isuien Garden - This beautiful Japanese Garden covers an area of 13481 square meter. It is the only promenade or walking garden (kaiyushiki teien) in Nara. Read more >
Ukimido Gazebo - It is a hexagonal wooden gazebo "floating" over the Sagiike Pond in the Nara Park near Kasuga Taisha Shrine. The gazebo is a very popular photo spot for tourists. Read more >
Nara National Museum - The museum dates back to 1889. It is well-known for the huge collection of Buddhist art. You will find there also beautiful art pieces which belonged to shrines and temples of the Nara region.
Festival & Events
(dates can change without notice)
March
Omizutori Festival (1st - 14th)
This Japanese Buddhist festival dates back 1000 years. Priests at the Todaiji Temple perform rituals (called Shuni-e) for 14 days. They pray for world peace, rich harvest and confess their sins. A very special event during these 14 days is Otaimatsu. Priests running with huge pine torches through corridors of the Nigatsu-do Hall. It is said that if you get hit by these fire sparks no evil thing will harm you. Dont miss out the Omizutori ceremony on the 13th of March. Water is being collected by priests infront of the Todaiji Temple. It is believed this water has the power to cure diseases.
August
Toka-ye Lantern Festival (5th - 14th)
Thousands of candles are lit everywhere in Nara between 7:00 pm and 9:45 pm. Enjoy this special atmosphere in the Nara Park, temples and gardens.
My 100 Best Moments in Japan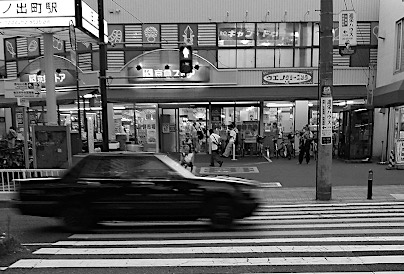 I have visited Japan nearly every year since 2004. This is my collection of the 100 best moments in my favourite country. Enjoy the pictures and I hope you will start your own journey soon.
Find out more >
Books about Japan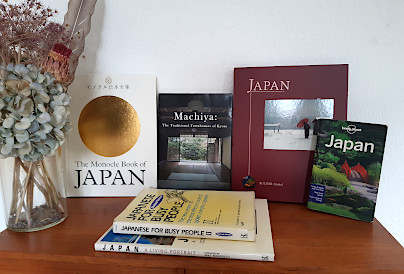 Reading books is a great source of inspiration for me. Check out my recommended list of books about the fascinating country Japan.
My Book recommendations >
Travelers who viewed Nara Park viewed also: