Brocade Sash Bridge
Please activate Javascript.

Domo arigato.
Kintai-kyo Or Brocade Sash Bridge
Facts & Figures
Kintai-kyo or Brocade Sash Bridge belongs to the 3 most famous and historically significant bridges in Japan, besides the Meganebashi bridge in Nagasaki and Nihonbashi bridge in Tokyo. It is the symbol of the city Iwakuni in the Yamaguchi Prefecture. It is amazing to see that no nails where used to construct this wooden bridge over the Nishiki River. The total length of the 5 wooden arches bridge is 193.3 meter and every arch is spanning 35.1 meter with an roadway width of 5 meter. The arch ribs are made of pine and keyaki wood. Kintai-kyo Bridge is supported by massive stone pillars. It is a very popular spot for locals and tourists to enjoy the Cherry Blossom season. The bridge is illuminated till 10:00pm. My tip: At night during the summer month cormorant fishing (ancient practice) can be watched under the bridge. It is amazing to see how the fishermen is using the bird to catch a fish.
Brocade Sash Bridge:

Opening Hours

- 8:00 am to 5:00 pm/6:00 pm/7:00 pm (depending on the season)

Open

- whole year

Admission Fee

- 300 yen (Adults), 150 yen (Children)
History
The construction of Kintai Bridge was completed in 1673. After only one year a big flood destroyed the bridge. Some adjustments to the structure were made by the command of lord Kikkawa Hiroyoshi and the better version survived the next 276 years. In 1950 a huge typhoon Kijia washed the Kintai Bridge away. In 1953 the decision was made to rebuilt the bridge again and this is the version we see today with some renovations work done in 2004.
Location
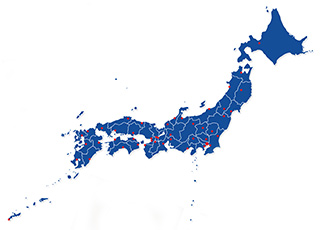 Kintai-kyo Bridge is located within the city Iwakuni in the Yamaguchi Prefecture.
Address: Iwakuni, Yamaguchi Prefecture 741-0062
How to get to Kintai-kyo Bridge?
 21min from Shin-Iwakuni Station to Kintai-kyo bus stop or
 21min from Iwakuni Station to Kintai-kyo bus stop
Sightseeing spots
Top:
Kikko-koen Park - the famous bridge is part of this spacious park with great walking paths, come here to enjoy the Cherry Blossom season
Iwakuni Castle - built in the early 17th century by the Kikkawa family, later the castle was destroyed and rebuilt in the middle of the 20th century
Festival & Events
(dates can change without notice)
April
Kintai Bridge Festival (4th Sunday in April)
More than 3000 cherry trees located around the bridge are in full bloom and thousands of people enjoy the view and the parades over the bridge. Some of the locals are dressed like samurais and recreating the atmosphere of the old times.
October
Iwakuni Festival (3rd weekend in October)
The festival (matsuri) is held in downtown Iwakuni and the people celebrate autumn and the color change of the famous Japanese maple trees.
Where to stay in Iwakuni?
My 100 Best Moments in Japan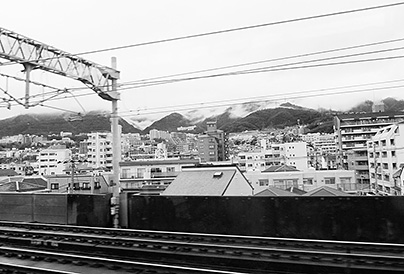 I am visiting Japan nearly every year since 2004. This is my collection of the 100 best moments in my favourite country. Enjoy the pictures and I hope you will start your own journey soon.
read more