Kenrokuen Garden

Show map

Show gallery
Please activate Javascript.

Domo arigato.
Kenrokuen Garden In Kanazawa

Kenrokuen Garden In Kanazawa

Kenrokuen Garden In Kanazawa
Facts & Figures
Kenrokuen Garden in the city Kanazawa belongs to the three most beautiful landscape gardens in Japan, besides the Kairakuen Garden in Mito and the Korakuen Garden in Okayama. The whole area covers 25 acres of beautiful ponds, flowers, trees and waterfalls.
Kenrokuen Garden:

Opening Hours

- 7:00 am to 6:00 pm – 1 March till 15 October

Opening Hours

- 8:00 am to 5:00 pm – 16 October till 28 February

Admission Fee

- Adults: 300 yen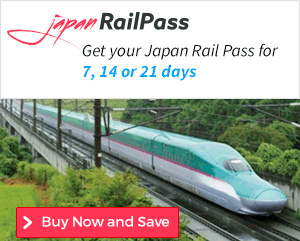 Since 2004 I travel nearly every year to Japan. The rail pass made my life easier to discover all those amazing places in my favourite country.
History
Kenrokuen Garden was created between 1620s till the 1840s by the Maeda family. A fire destroyed the Kenrokuen Garden in 1759. The restoration begun 1774 by the 11th lord Harunaga. The garden was not open for the public till 1874.
Location
Show map
The Kenrokuen Garden is located outside the gates of Kanazawa Castle. The city Kanazawa is located within the Ishikawa Prefecture.
How to get to Kanazawa?
 4hrs from Tokyo to Maibara by JR Tokaido Shinkansen and limited express to Kanazawa
 7-8hrs from Tokyo to Kanazawa by Willer Express highway bus
How to get to Kenrokuen Garden?
 15min from Kanazawa Station to Kenrokuen-shita bus stop by Hokutetsu bus
Sightseeing spots
inside the garden:
Midori waterfall - is 6.6 meters high and 1.6 meters wide
Kaiseki-to lantern - 4.1 meter high stone pagoda on a small island
Kasumiga-ike pond - located at the center of Kenrokuen Garden
Neagari pine - black pine, planted by the 13th lord Nariyasu himself
Uchihashi-tei tea house - Tea ceremonies are held once a year on 7th of May
Kotoji toro Lantern - a stone lantern with two legs
Plum-Grove Garden - contains app. 200 plum trees of 20 varieties
Hanami Bashi (Flower Viewing Bridge)
Festival & Events
(dates can change without notice)
February
Winter Light-Up at Kenrokuen Garden (28th - 5th)
April/May
Kenrokuen Garden's beautiful illumination during cherry blossom period (28th - 5th)

June
Hyakumangoku Matsuri (last 3 days, peak first Saturday in June)
The Hyakumangoku Matsuri is the largest and most famous annual festival of the city Kanazawa and the Ishikawa Prefecture. Absolute highlight is the magnificent Hyakumangoku Parade, which takes place during the festival from Kanazawa Station to Kanazawa Castle Park. It is attracting large crowds of tourists and locals. The matsuri commemorates the entry of Lord Maeda Toshiie in 1583 into Kanazawa Castle.
Travelers who viewed Kenrokuen Garden viewed also: