Hokoku-jinja Shrine (Osaka)

Show map

Show gallery
Please activate Javascript.

Domo arigato.
Main Hall Hokoku-jinja Shrine In Osaka Castle Park

Inner Torii Hokoku-jinja Shrine In Osaka Castle Park

Hokoku-jinja Shrine Osaka Castle Park

Hokoku-jinja Shrine Osaka Castle Park

Hokoku-jinja Shrine Stone Garden Shuseki-tei Osaka Castle Park

Hokoku-jinja Shrine Osaka Castle Park

Hokoku-jinja Shrine Osaka Castle Park

Roof Of Hokoku-jinja Shrine In Osaka Castle Park

Hokoku-jinja Shrine Cherry Blossom

Hokoku-jinja Shrine Roof Detail

Bronze Statue Toyotomi Hideyoshi Hokoku-jinja Shrine
Facts & Figures
Hokoku-jinja Shrine in Osaka was built to honor the famous samurai, general and politician Hideyoshi Toyotomi (1536 - 1598). The Shinto shrine is beautiful located within the Osaka Castle Park.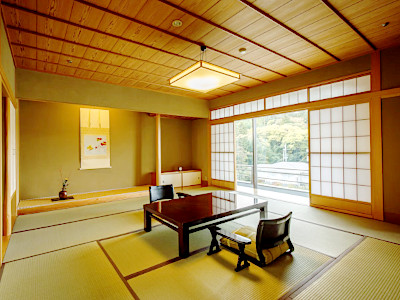 Explore Ryokans in Osaka
Ryokans are the perfect way to discover old Japanese culture and traditions.
History
The Emperor Meiji gave in 1879 the order to built the Hokoku-jinja Shrine on Nakanoshima, Osaka. In 1961 the Shinto shrine was moved to its current location.
Location
Show map
Hokoku-jinja Shrine is located in Chuo-ku (ward) within the Osaka Castle Park.
Address: 2-1 Osaka-jo, Chuo-ku, Osaka-shi, Osaka-fu 540-0002
How to get to Hokoku-jinja Shrine?
 8min from Tanimachi 4-chrome St. served by Tanimachi and Chuo Subway Line or
 10min from JR Osaka Station to Osakajokoen Station by JR Loop Line
Sightseeing spots
Top:
Main Hall - many people come here to wish for success and good luck in their careers
Wedding Hall - if you are luck you can witness a Japanese wedding ceremony
Statue of Toyotomi Hideyoshi - bronze statue with a height of 5,20m made by Shinya Nakamura
Festival & Events
(dates can change without notice)
July
Tenjin Matsuri Festival (24th till 25th)
Osaka's greatest traditional festival (over 1000 years old) and ranked as one of the top 3 festivals in Japan. Enjoy spectecular processions on land and in the water, great fireworks and a unique atmosphere created by the traditional costumes and music. My must-see recommendation for you.
August
Osaka lantern festival / Osaka Jo Lanterns (25th and 26th)
Osaka Castle (Osaka-jo) is once a year decorated with thousands of lanterns lit at its doorstep. Buy your own lantern and be part of this great event.
Search Hotels in Osaka