Fushimi Inari-Taisha (Kyoto)

Show map

Show gallery
Please activate Javascript.

Domo arigato.
Fushimi Inari Shrine Romon Gate in Kyoto

Fushimi Inari Shrine in Kyoto

Wooden Votive Plaques Ema At Fushimi Inari Shrine

Fushimi Inari-Taisha In Kyoto

Fushimi Inari-Taisha Complex In Kyoto

Fushimi Inari-Taisha Complex In Kyoto

Fushimi Inari-Taisha Map In Kyoto

Fushimi Inari Shrine Senbon Torii In Kyoto

Fushimi Inari-Taisha Shrine Small Torii's

Fushimi Inari-Taisha Senbon Torii In Kyoto

Fushimi Inari-Taisha Senbon Torii In Kyoto

Sunshine At Fushimi Inari-Taisha Shrine Complex

Fushimi Inari-Taisha In Kyoto

Wishing Plates At Fushimi Inari Taisha Shrine In Kyoto

Fushimi Inari Shrine Pond In Kyoto

Fushimi Inari-Taisha Torii Path In Kyoto

Senbon Torii Gates At Fushimi Inari Shrine in Kyoto

Chozuya At The Fushimi Inari Shrine In Kyoto

Small Restaurant At The Walking Path Of The Fushimi Inari Shrine In Kyoto

Hill Climb At Fushimi Inari-Taisha Shrine Complex

Kitsune (Guard Fox) Fushimi Inari Shrine In Kyoto

Entrance Of The Fushimi Inari Shrine In Kyoto

Kitsune (Guard Fox) Fushimi Inari Shrine In Kyoto
Facts & Figures
Fushimi Inari Taisha (Fushimi Inari Shrine) is one of the most popular, well-known, impressive and memorable Shinto shrines in all of Kyoto. The shrine is famous for its endless arcades of thousands of vermilion torii gates along the 4km pathway up the sacred mountain Inari (233 metres).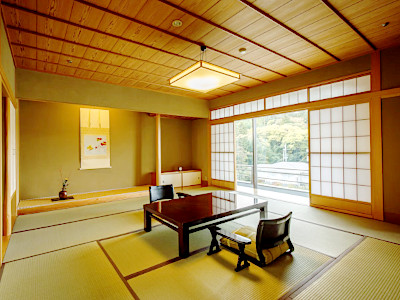 Explore Ryokans in Kyoto
Ryokans are the perfect way to discover old Japanese culture and traditions.
The head shrine of Inari represents app. 40000 Inari shrines throughout Japan. The shrine was dedicated to the gods of rice and sake and as the patron of prosperity in business. Btw each of the vermilion torii gates was a donation by individuals and companies. If you are interested to donate it will cost you "only" 1 million yen for such a gate. Many fox statues are visible all over the shrine complex. Foxes are considered as Inari's messengers.
Fushimi Inari-Taisha:

Opening Hours

- 9:00 am to 4:30 pm (December to March)

Opening Hours

- whole year, 24 hours/day

Admission Fee

- free
History
Fushimi Inari Taisha is one of the oldest Shinto shrines in Kyoto. Founded by the Hata family (Hata-no-Irogu) in 711. Between 1871 and 1946 the shrine was one of government supported shrines (Kanpei-taisha).
Location
Show map
Fushimi Inari Taisha is located in Fushimi-ku (ward) in Kyoto.
Address: 68 Fukakusa, Yabunouchi-cho, Fushimi-ku, Kyoto
How to get to Fushimi Inari Shrine?
 5min from Kyoto Station to JR Inari Station by JR Nara Line or
 2min walk from Fushimi Inari Station along Keihan Main Line
Sightseeing spots
Top:
Romon Gate at the entrance - donated in 1589 by Toyotomi Hideyoshi (1536 - 1598), famous politician and general of the Sengoku period
Senbon Torii ("thousands of torii gates") - 4km hiking trail starts with two parallel rows of torii gates
Yotsutsuji intersection - take a break on your hiking tour and enjoy here the great view over Kyoto
Festival & Events
(dates can change without notice)
January
Hatsu-mode (New Year's first shrine visit) (first days in January)
Thousands of visitors come to the shrine to pray for good fortune and a successful year.
April
Sangyo-sai festival (lit. "Industry Festival") (8th)
This festival at the Fushimi Inari Shrine has the aim to ensure the prosperity of the nation's industry. On that day dances are performed and offerings are given in large quantities.
May
Aoi Matsuri (15th)
The highlight of this festival is a large parade from Imperial Palace through Shimogamo Shrine to the Kamo Shrines. More than 500 people wearing aristocratic costumes from the Heian Period (794 - 1185). The Aoi Matsuri belongs with the Gion Matsuri and Jidai Matsuri to the three most famous festivals in Kyoto.
July
Gion Matsuri (whole month)
The month July is full of different events like the Yoiyama - Kyoto's Magical Night (locals in kimonos look at the giant Gion floats the day before the parade) or the famous Yamaboko Junko (float procession on the 17th of July).
October
Jidai Matsuri ("Festival of Ages") (22nd)
People celebrate with a large parade between Imperial Palace to Heian Shrine the anniversary of the foundation of Kyoto. App. 2000 participants wearing historical costumes from different time periods. Enjoy this great festival which last around 2 hours.
Nukiho Matsuri (rice harvest festival) (25th)
The ritual of rice harvesting is performed at Fushimi Inari Taisha by women wearing traditional Shinto dresses accompanied by sacred dances.
Travelers who viewed Fushimi Inari Taisha viewed also:
Search Hotels in Kyoto